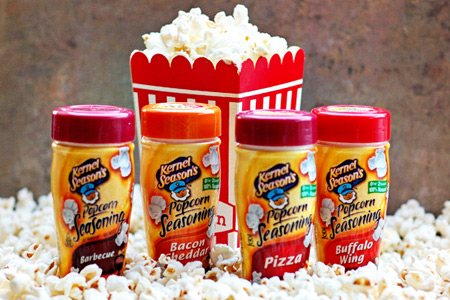 Recently I was approached by the folks at
Kernel Season's
and they asked me if I wanted to review a few samples of their popcorn seasonings. I'll be honest and say that at first I wasn't quite sure that my readers would be all that interested, that is until I saw their great array of flavors.
One look at their
list of flavors
makes it very obvious that these aren't your average run-of-the-mill popcorn seasonings. With flavors like barbecue (hello!), buffalo wing, jalepeno cheddar, bacon cheddar, and pizza, how can a guy possibly go wrong?
They sent me four flavors -- barbecue, bacon cheddar, buffalo wing, and pizza. I tasted each flavor straight from the jar and I thought that they were all very true to their name, but of course the real test would be on popcorn. We tried them all in various batches of freshly popped corn.
I popped a few quarts of fresh corn using peanut oil. A great method is to heat the oil in a large pot, covered, at just over medium heat with just four or five kernels in the oil. Once those kernels pop, move the pot off of the heat for about thirty seconds. At that point pour in the corn (about 1/2 cup to 3 tablespoons of oil) and return the pot to the heat. Cover the pot with the lid tilted to vent some of the steam. Shake the pot on the burner every few seconds. Most of the corn will pop within about a minute or so. You'll know it's done when there are several seconds of silence between pops. When you reach that point, immediately pour the corn into a large bowl. Using this method you will notice that there are very few un-popped kernels and very little, if any, burned corn.
As I mentioned, we tried the seasonings a few times and we enjoyed each, with the exception of the buffalo wing flavor. That was just too potent, and the vinegar flavor shot straight into our nostrils in an off-putting way. It mellowed a bit as we ate it, but it was definitely our least favorite.
Our overwhelming favorite was actually a blend of the barbecue and bacon-cheddar. That was some serious cheesy, smoky and slightly sweet popcorn bliss. Blending flavors really is a great way to use Kernel Season's. You can create your own signature flavored popcorn with just a few shakes of this and that.
Oh, and don't stop at popcorn! These seasonings would be great on French fries, tater tots, baked potatoes, or anything else that could use a blast of flavor. I think that some homemade potato chips would be an outstanding canvas for these seasonings. Shoot, I'd bet that some would even be a great on meat headed for the grill.
Overall we really enjoyed the Kernel Season's product and I recommend them.
Disclaimer:
The seasonings were provided to me free of charge for the purpose of this review, but the thoughts expressed are entirely my own.
Labels: review