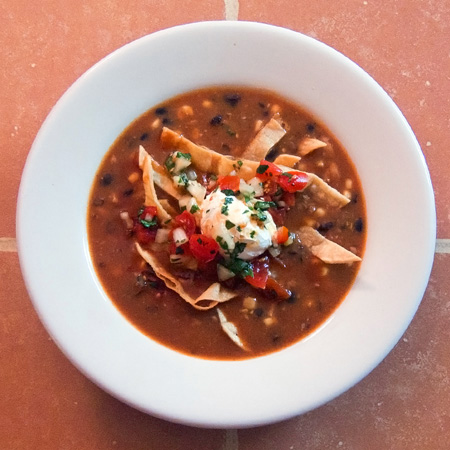 Here's my take on chicken tortilla soup. The base is a quick stock made from the bones of leftover grilled chicken, and I use some canned ingredients to make the prep a snap. If you like chicken tortilla soup, I highly recommend that you give this a try. It's a spicy, rich, and slightly smoky twist on the traditional version.
Ingredients
4-6 Pieces grilled chicken, skin removed (I use legs and thighs)
10 cups Water
1 Small yellow onion, chopped rough
1 Carrot, chopped rough
1 Stalk celery, chopped rough
1 Bay leaf
1 tsp Peppercorns, cracked
2 tsp Canola oil
2 cloves Garlic, minced
1 Tbsp Your favorite Mexican-style hot sauce (I used Tapatio)
1 can (10 oz)
Mild Ro*Tel diced tomatoes and chiles
1 can (8 oz)
Original Ro*Tel Sauce
1 can (15 oz) Black beans, rinsed (I used
Bush's
)
1 cup Frozen whole kernel corn
Fried tortilla strips
Sour cream
Pico de gallo
Notes:
Of course you can make this less spicy by leaving out the hot sauce and using Mild Ro*Tel Sauce
If you can't find the Ro*Tel sauce (a new product line), I would just puree a can of their original tomatoes and chiles with some tomato sauce using a standard or immersion blender
.
Method
Remove the chicken from the bones (reserve the bones), chop to 1/2", cover and refrigerate.
Combine the water, reserved chicken bones, onion, carrot, celery, bay leaf, and peppercorns in a large stock pot. Bring to boil, reduce to simmer, and cook uncovered for two hours. Strain the stock and set aside.
Heat the oil in a large pot over medium heat. Add the chicken, garlic and hot sauce, and cook two minutes, stirring frequently.
Add 8 cups of the stock, tomatoes and chiles, Ro*Tel sauce, beans, and corn to the pot. Bring to boil, reduce to simmer, and cook uncovered for five minutes.
Serve topped with fried tortilla strips, sour cream and pico de gallo.
Enjoy!