Unknown
Permanent Link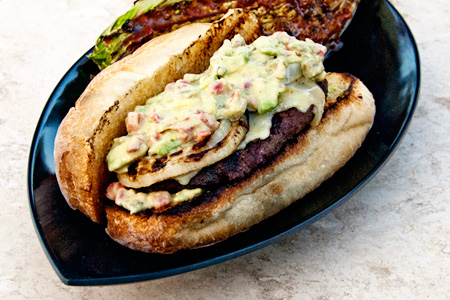 As the name implies, here's my version of a California burger. It's a half-pound burger on a rustic roll, topped with melted pepper-jack cheese, grilled onion slices, and lots of chunky funky guacamole.
I'll admit that, seasonally speaking, this is probably a little premature, but the mood hit me and I went with it.
Ingredients
3 lbs Ground beef, 80/20 please
1/4 cup Water, ice cold
1 Tbsp Montreal steak seasoning (I used McCormick brand)
2 Tbsp Soy sauce
6 Rustic hoagie rolls
12 slices Pepper-jack cheese
2 large Sweet onions, sliced to 1/3" (12 slices)
1 1/2 cups Chunky funky guacamole (recipe follows)
Canola or vegetable oil
Guacamole
2 Ripe avocados, diced to about 1/3" (approx. 1 1/2 to 2 cups)
3 Tbsp Mayonnaise
1 Lime, juiced
1 jar (4 oz) Pimientos, drained
1 can (4 oz) Fire-roasted green chiles, drained
2 tsp Garlic salt
Method
Combine all of guacamole ingredients in a medium mixing bowl, stir well, and refrigerate at least one hour.
Put the beef, steak seasoning, soy sauce and water in a large mixing bowl. Use your hands to mix the ingredients very well. Yes, it'll be messy.
Divide the meat into six equal portions and form them into evenly-sized balls.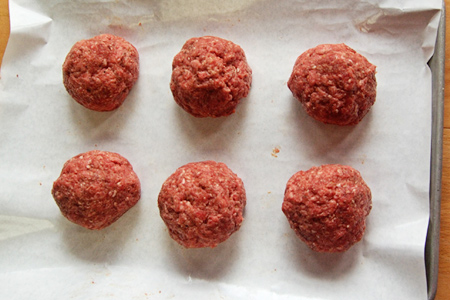 Gently roll each ball between your hands to form a log shape about four inches long. Lay the log on wax or butcher paper and press to form a long patty about 2 1/2" wide, 5 inches long, and 1/2" thick.
Use your index finger to put three holes evenly spaced lengthwise along the center of each patty and set them aside.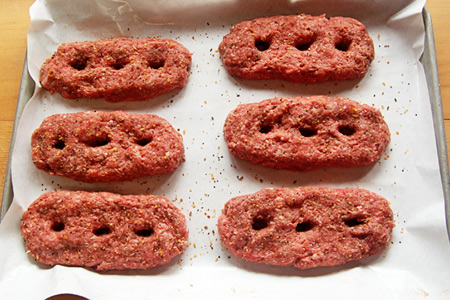 Lightly oil both side of each onion slice.
Start your grill and prepare for direct and indirect cooking (heat to one side) over a medium-hot fire (375-400º).
Grill the onions over direct heat for about two minutes per side, then move them to the cooler side of the grill.
Lightly oil both sides of each burger.
Grill the burgers over direct heat for three minutes, then flip them and cook another three minutes.
Move the burgers to the cooler side of the grill and top each with two slices of the cheese and two grilled onion slices.
Toast the rolls over direct heat.
Smear the lower half of each roll with about a tablespoon of the gaucamole, add a burger, then top with another 3 tablespoons of guacamole.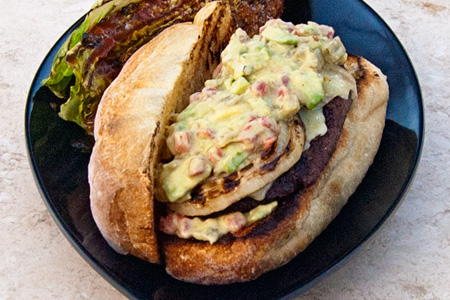 Serve and enjoy!