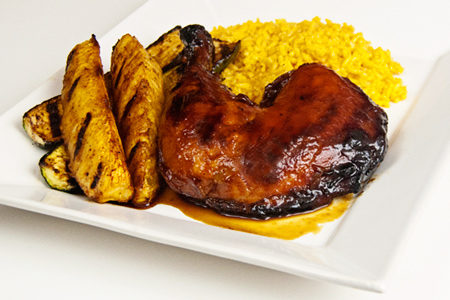 Last weekend I was craving some grilled chicken and I had a category-three brainstorm. The idea was to brine chicken parts in a soy-infused brine, slowly grill them indirect, then glaze them heavily in a homemade teriyaki sauce made from reduced pineapple juice.
Teriyaki chicken is one of my wife's favorite meals. I typically serve it with grilled pineapple and zucchini, as you see here. The rice is
Vigo Yellow Rice
, which I highly recommend.
This chicken was outstanding, if I do say so myself. In fact, it was so good that I'm seriously contemplating using this recipe as my chicken turn-in at my next barbecue competition. The sauce takes some time to make, but your effort will be well rewarded.
Ingredients
10-12 Chicken parts, (skin-on/bone-in is best)
Brine (recipe follows)
Teriyaki sauce (recipe follows)
Brine
1 quart Boiling water
1/2 cup Kosher salt
2/3 cup Brown sugar, light
1/8 cup Soy sauce (I used
Aloha brand
)
3 cloves garlic, minced
1 quart Cold water
7 cups Ice
Teriyaki Sauce
46 oz Pineapple juice
1 cup Brown sugar, light
1/3 cup Rice wine vinegar, seasoned
1/2 cup Soy sauce (I used
Aloha brand
)
1/3 cup Dark sweet soy sauce (I used
ABC brand
)
1 tsp Ground ginger
Note:
If you can't find sweet soy sauce, just add another 1/8 cup of soy sauce and 1/2 cup more brown sugar.
Method
Combine all of brine ingredients, except the cold water and ice, in a stock pot. Whisk well until the sugar and salt are dissolved, then add the cold water and ice and stir to cool.
Add the chicken parts to the brine, cover, and refrigerate 4-6 hours.
Bring the pineapple juice to a boil in a large non-reactive sauce pan. Reduce the heat to a high simmer and let cook until the juice is reduced by half, stirring occasionally (about 30-40 minutes).
Reduce the heat to a low simmer, add the remaining sauce ingredients, stir well, and let cook another 15 minutes.
Remove for the heat, cover and set aside to cool.
About 2 hours before you want to serve, start your grill and prepare for indirect cooking (heat to one side) over a medium fire (325-350º).
While the grill is heating, remove the chicken pieces from the brine and pat each dry with paper towels.
Grill the chicken over indirect heat until the internal temperature in the thickest part of each is about 140º. Gently remove the skin from each piece, brush each side with the sauce, and continue cooking with what was the skin side up.
Continue cooking, saucing each side about every 10 minutes, until the internal temperature reaches 165º.
Remove the chicken from the grill, tent with foil, and let rest five minutes.
Brush each piece with sauce, serve and enjoy!