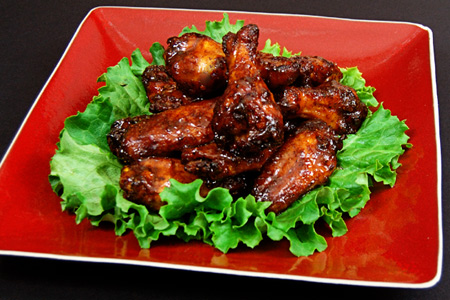 I'm cooking twelve pounds of my
Memphis Dry-Rubbed Wings
for a game day party this afternoon, and I thought it would be fun to make a few hot and sweet wings for the adventurous folks. What started as an experiment turned out fantastic, if I do say so myself.
Don't let the name scare you. Yes, these are hot, but they're not rip-your-lips-off hot. Well, at least not until you hit about the fourth wing. As a case in point, our eldest daughter (13) ate one last night and wanted another. They really have a great balance of heat, sweet, and smoke.
The heat for these bad boys comes from
Oakridge BBQ's Habanero Death Dust
, and they are slathered with a silky sweet and slightly tangy glaze of mango-peach pepper jelly and melted butter. If you can't find the jelly, standard pepper jelly or an apricot-pineapple jelly (or a mixture of both) would be great as well.
If you are a hot wing fan, I highly recommend that you give these a try. They are honestly some of the best I've ever had.
Ingredients
8 Chicken wings, whole (or 16 wing sections)
1 cup Zesty Italian salad dressing (any cheap store brand is fine)
1/4 cup + 2 Tbsp
Habanero Death Dust
, or your favorite hot BBQ seasoning
1/4 cup Mango-peach pepper jelly
2 Tbsp Butter, unsalted
Canola oil cooking spray
Method
Cut the tips off of the wings then cut them into sections, removing any excess skin and fat.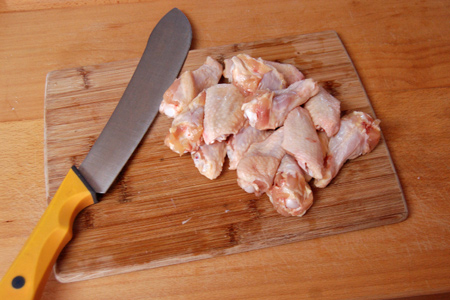 Put the wings and salad dressing in a gallon-size zip-top bag and slosh the wings around so that they are all coated. Seal the bag, removing the excess air and refrigerate four hours.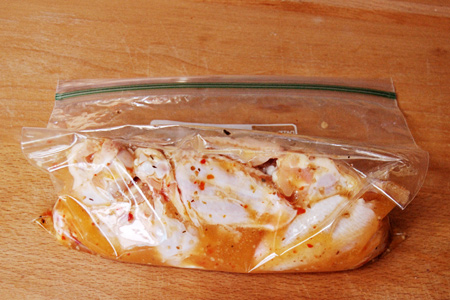 Drain as much of the dressing as you can from the bag (or move the wings to a new bag), and add 1/4 cup of the Death Dust or whatever seasoning you're using. Squish the wings around in the bag so that they are all coated, and refrigerate one hour.
Start your grill and prepare for indirect cooking over medium heat (325-350º). I used a combination of Kingsford® Competition Briquets and mesquite lump charcoal.
Put the remaining 2 tablespoons of Death Dust in a shaker.
Cook the wings indirect for 20 minutes, then flip them, spray them with a light mist of canola spray, and dust them lightly with the seasoning.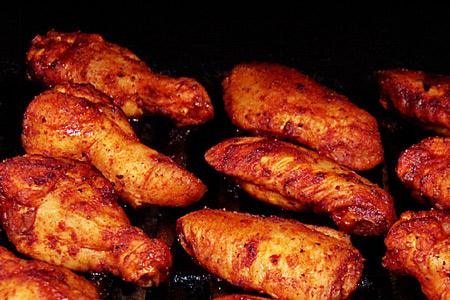 Cook 15 minutes more, then repeat the flip, mist and dust process three more times, every 15 minutes.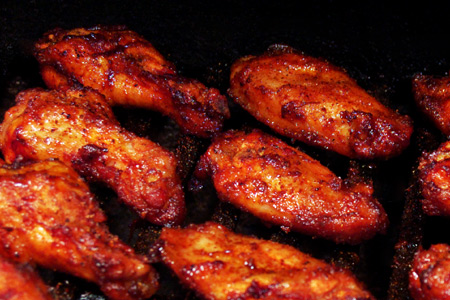 Combine the jelly and butter in a medium microwave-safe bowl and microwave until the butter is melted, then whisk well to combine.
Coat each wing with the glaze and cook 10 more minutes.
Glaze each wing again and remove them from the grill to a platter.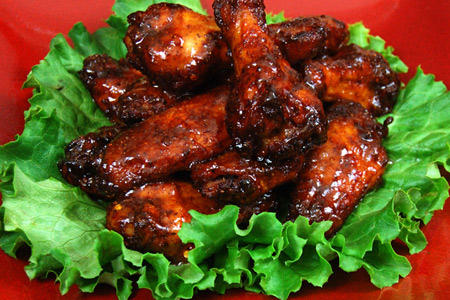 Serve with the remaining glaze for dipping and enjoy (with caution)!