Unknown
Permanent Link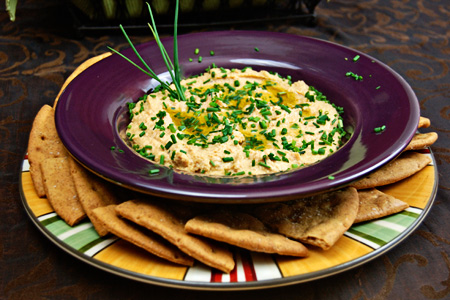 It's pretty obvious that my blog isn't what one would call a destination for healthy food options. However, I do occasionally stick my big toe out of my usual dude food box and venture into things that flirt with the healthful. This would be one of those rare times.
I will be completely honest and say that prior to making this I'd never tasted hummus. I know, I know... It just didn't appeal to me in the slightest. To me it had all the earmarks of something that only Birkenstock-clad folks eat. And, having now made it, I can't say that it's a favorite. My daughters (who apparently got some Birkenstock in them somewhere in the gene pool) assure me that this concoction of mine is good, but how do I know? They could be just stroking my ego despite my assurance that it wouldn't hurt my feelings if they thought it sucked.
So, here, try it and tell me what you think.
Ingredients
1 can (15.5 oz) Chickpeas (garbanzo beans), drained and rinsed
1/3 cup Tahini
1/2 cup Water, boiling hot
1 large Lemon, halved
4 large Cloves garlic, unpeeled
3 Tbsp Olive oil, extra virgin, divided
2 Tbsp Chives, minced (for garnish)
1 tsp Kosher salt
1/2 tsp Sweet paprika
1/4 tsp Ground cumin
1/4 tsp Ground chipotle
Method
Start your grill and prepare for direct cooking over medium heat (325-350º).
Wrap the edges of a fine mesh rack with foil to ensure the chickpeas don't roll off while grilling. The girls and I have dubbed this "the bean corral".
Combined the chickpeas, garlic and 2 teaspoons of the oil in a medium mixing bowl and stir to coat.
Arrange the chickpeas, garlic and lemon halves on the rack. Keep the bowl handy for later.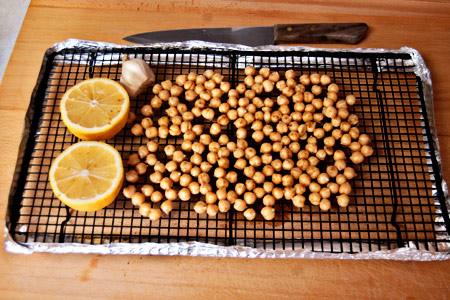 Place the rack directly over the coals and cook until the chickpeas are golden and lightly charred, about 15 minutes, rolling them around gently with a spatula every five minutes.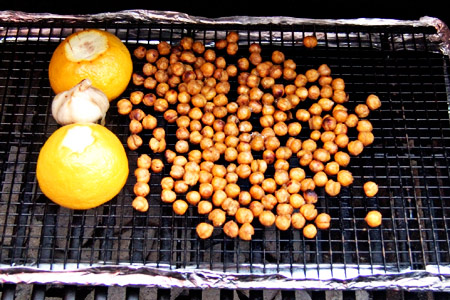 Remove the rack from the grill and let cool about ten minutes.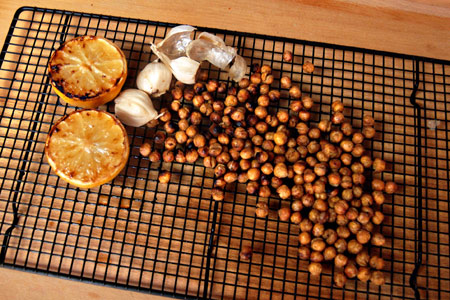 Put the chickpeas in the original mixing bowl, squeeze the juice of the lemons into the bowl (no seeds, please), and squeeze the garlic cloves out of their paper into the bowl. Add the boiling water and salt and let soak 30 minutes to rehydrate the beans.
Add the tahini, cumin, paprika, chipotle and 1 tablespoon of the oil to the bowl. Blend to a semi-smooth consistency with an immersion blender, or process in a blender or food processor.
Put the hummus in a bowl, drizzle on the remaining oil and garnish with the chives.
Serve with pita chips and enjoy!