Unknown
Permanent Link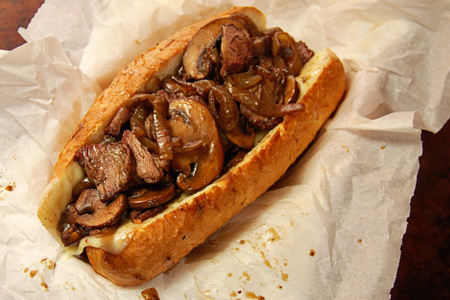 I know that you might be thinking, "Another Philly cheese steak recipe? Really?!" Yeah, I'll admit that I initially thought the same thing as I was putting this recipe together. However, let me assure you that this is a cheese steak that packs a top-shelf punch.
There are relatively few times when I have a mess of steak leftover. In this case it was due to me finding an absolutely killer deal on some chuck eye steaks. I bought all they had and figured that I'd worry about what to do with them later.
Let me digress for just a moment. If you've never heard of or tried a chuck eye steak, do yourself a huge favor and remedy that situation. Frequent readers know that I've occasionally preached the virtues of the flat iron steak. Well, the chuck eye is another little-known bargain cut that eats like a steak of at least twice the price. Both come from the chuck primal and are simply outstanding on the grill.
Now back to the task at hand -- a cheese steak elevated. Since this steak is so good I wanted to come up with a recipe that would be something special. Give this a try and let me know if you agree.
Ingredients
4 Good hoagie rolls
12 slices Pepper jack cheese (enough to cover the inside of each roll)
8 oz Grilled steak, sliced to 1/8"
2 Tbsp Butter, unsalted
1 Tbsp Olive oil
1 clove Garlic, crushed
4 Large Crimini (baby Portabella) mushrooms, sliced to 1/4" (about 2 cups)
1/2 Large yellow onion, sliced to 1/4" (about 1 1/2 cups)
1/8 cup Dry red wine
2 Tbsp Worcestershire sauce
1 tsp Black pepper, ground fresh
Method
Heat the butter and oil in a large saute pan over medium-high heat until the butter is melted and starting to foam.
Add the garlic to the pan, reduce the heat to low and let cook about two minutes, stirring occasionally. Remove and discard the garlic.
Return the pan to medium-high heat, add the pepper, onions and mushrooms. Saute until the onions are translucent and the mushrooms are tender (about 10 minutes), stirring or tossing frequently.
Reduce the heat to medium, add the wine and Worcestershire sauce to the pan and cook 5 minutes, stirring or tossing frequently.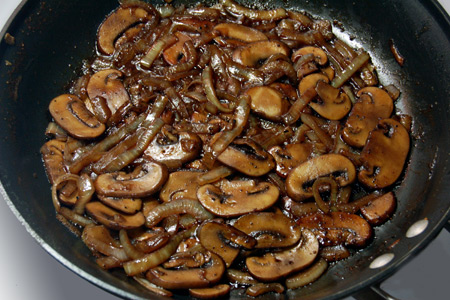 Add the steak to the pan, reduce the heat to low, and cook just long enough to heat the steak through, about 5 minutes.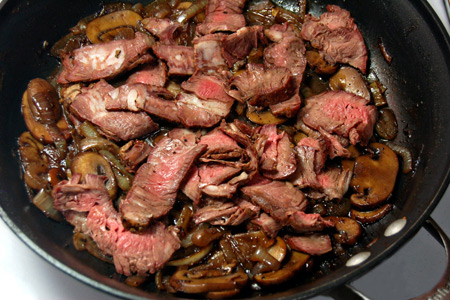 Line each roll with enough sliced pepper jack to cover it. Fill each roll with an equal amount of the steak mixture.
Serve and enjoy!