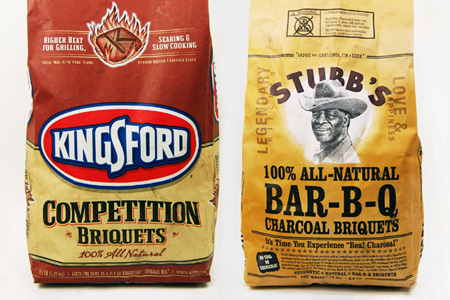 All-natural charcoal briquets have become increasingly popular over the past few years. That's especially true in the world of competition barbecue. This style of briquet is popular because it's essentially lump charcoal in briquet form. You get the high heat of lump with the convenience, uniformity, and predictability of a briquet.
Both the Kingsford® Competition and Stubb's® Briquets have been on the market for nearly three years now, but the Stubb's® product is new to me. I've been seeing quite a bit of banter about it on the various barbecue forums that I frequent, so I thought that it's time that I put these products to a briq-to-briq showdown.
As in my previous side-by-side charcoal reviews (the others are linked at the end of this post) I wanted this comparison to be as fair and impartial as I could make it. I don't have a laboratory, but I am an engineer, so I did the best that I could in a home setting. I ran side-by-side tests of two brand new off-the-shelf bags of each product. As you will see, I've weighed and photographed each product so that you can see exactly what I saw.
Let's see how these products compare.
I first weighed various quantities of each product. This will help quantify the bang-for-the-bag of each. It will also let us see how much of the product is left as ash, as we'll see at the end.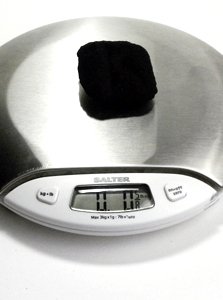 1 Briquet: 5/8 oz
5 Briquets: 3 3/8 oz
10 Briquets: 6 3/4 oz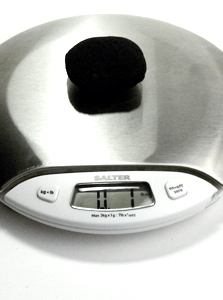 1 oz
5 oz
10 oz
For the burn test, I punched two aluminum pie pans with an identical pattern of holes. I wanted to use a method that would contain the ash for a final weight.
I then arranged each of the briquets in each pan as similarly as I could. I used 12 briquets in each, in layers of six, four, and two. I put a single Weber wax starter cube in each pile.
I lit each cube and took pictures at various intervals.
From here on the Kingsford® Competition briquets are pictured on the left, and the Stubb's® on the right.
Note:
If you're interested, the temperature when I started the burn was 39º and the humidity was 84%.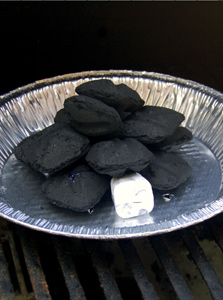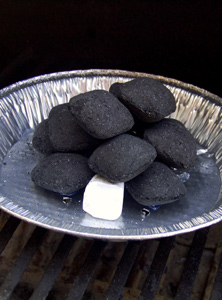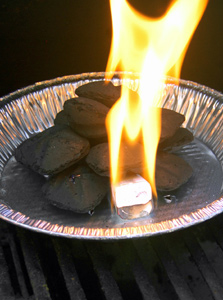 Houston, we have ignition!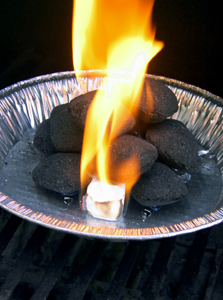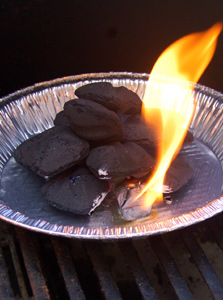 5 Minutes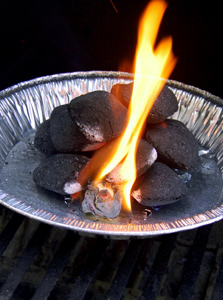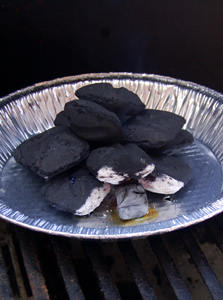 10 Minutes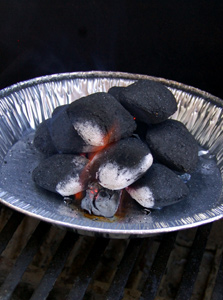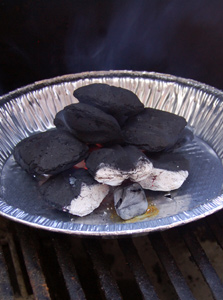 15 Minutes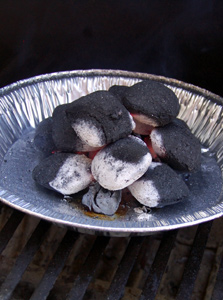 20 Minutes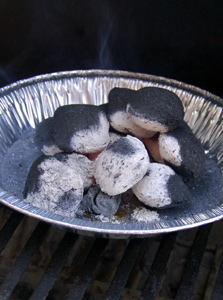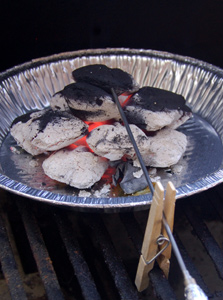 30 Minutes: 633º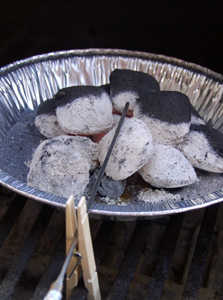 702º
At 30 minutes I started taking temperature measurements. I used a
TW8060 two-channel thermocouple thermometer
that was provided by the great folks at
ThermoWorks
for the purpose of this review.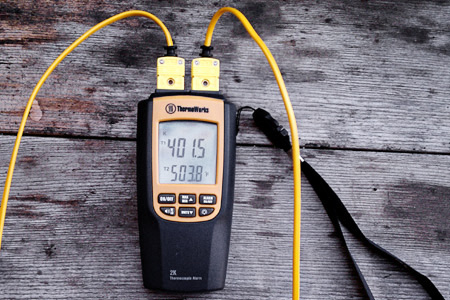 This thermometer, like
their incredible Thermapen™
is dead-accurate, and with a range of -328 to 2372°F it seriously blows the doors off of the infrared thermometer that I used in my previous reviews. The long industrial probes allowed me to measure the temperature just above the coals where your food sits.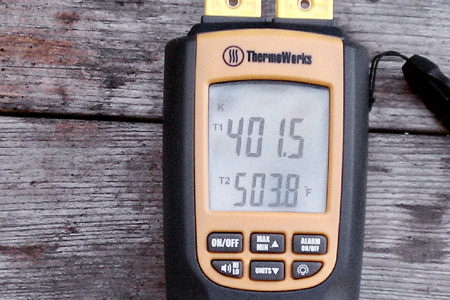 I stopped taking pictures at 120 minutes, but I continued reading the temperatures out to 180 minutes.
35 Minutes: 478º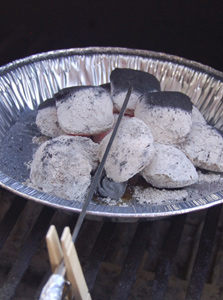 539º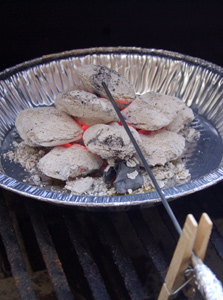 60 Minutes: 466º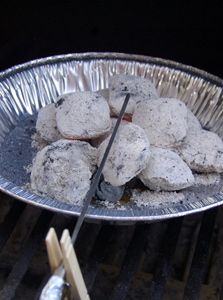 424º
90 Minutes: 520º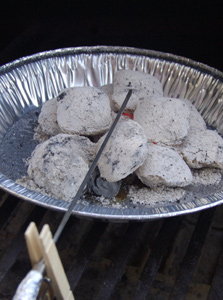 341º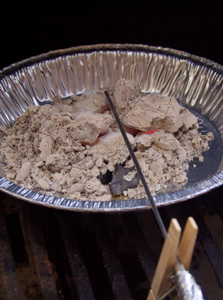 120 Minutes: 232º
180 Minutes: 140º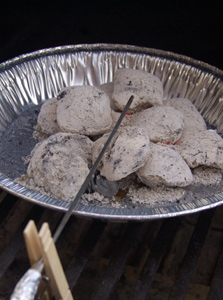 205º
92º
Here's a chart that shows the temperature readings of each product over time. The horizontal axis is time and the vertical shows the temperatures.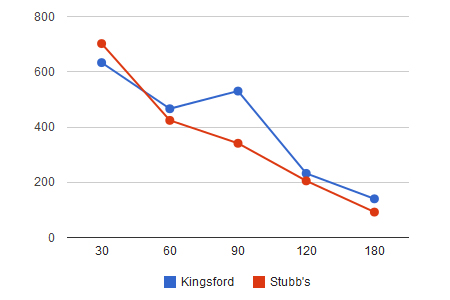 What about ash? Well, the results were surprising. The Stubb's® briquets produced nearly 250% more ash by weight than the Kingsford® Competition briquets. I was also surprised at the density of the Stubb's® ash. As you can see in the picture below, it held its shape fairly well, as opposed to the Kingsford® ash which collapsed.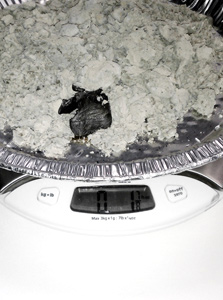 1 7/8 oz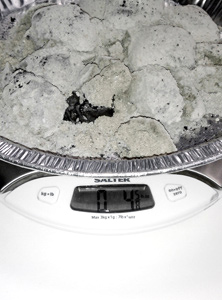 4 5/8 oz
The bottom line is that, while the Stubb's® product starts stronger, it loses its firepower more quickly and produces far more ash than the Kingsford® Competition briquets. There's more product by weight in each bag of Stubb's, but there's also much more that goes to waste.
I hope that you've found this review to be informative and helpful.
Obligatory Disclaimer:
This is not a paid endorsement. It simply reflects my honest findings and opinions.
You might also be interested in my previous charcoal reviews.
Original vs Competition Kingsford® Charcoal
Old vs New Kingsford® Charcoal