Unknown
Permanent Link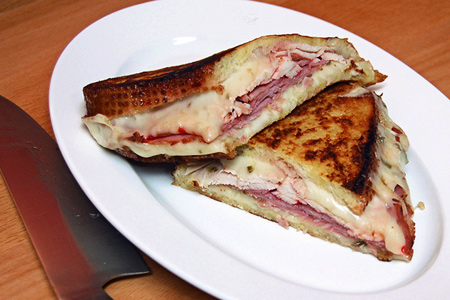 I dreamed this sandwich up as a new and unique twist on a traditional Monte Cristo sandwich. Our middle daughter Shelby shot some video of me making the beta version. She enjoyed it, and it's been a long, long time since I've done a recipe video, so I thought we'd spend a little daddy-daughter time and remedy that situation.
There are several variations of the standard Monte Cristo. It can be as simple as a fried ham and cheese, but it typically also contains sliced turkey and is dusted with powdered sugar. Many are served with jam or jelly.
To funkify mine I use good crusty sour dough bread, pepper-jack instead of the usual Swiss or Gruyere, and good dose of nicely spicy jalapeno jelly. The combination really works well.
Let me show you how all of this comes together.
Ingredients
2 slices Sourdough bread
4 slices Pepper-jack cheese (or enough to cover the bread)
4 slices Ham, thin
4 slices Turkey, thin
2 Tbsp Jalapeno jelly, medium
2 Tbsp Milk
1 Egg
2 Tbsp Butter, unsalted
Method
Heat the butter large saute pan over medium heat until the butter is melted and starting to foam.
Cover the inside of each bread slice with the cheese.
Lay the ham on top of the cheese on one piece of the bread, and the turkey on the other.
Spread the jelly over the ham, then gently fold the two halves of the sandwich together to assemble it.
Whisk the egg and milk well in a flat shallow pan large enough to allow the sandwich to lay flat. Put the sandwich in the egg mixture for about five seconds, pressing down gently. Turn the sandwich over and repeat on the other side.
When the butter is melted and foaming, lay the sandwich in the pan and let cook 2-3 minutes, or until it's a nice golden brown color that resembles French toast. Gently flip the sandwich over and continue cooking until the second side looks http://www.blogger.com/img/blank.gifthe same as the first.
Remove the sandwich from the pan, place it between two double layers of paper towel and gently press down on the top to remove any excess butter.
Slice the sandwich in half, serve and enjoy!
Note:
I have other recipe videos
here
.