Unknown
Permanent Link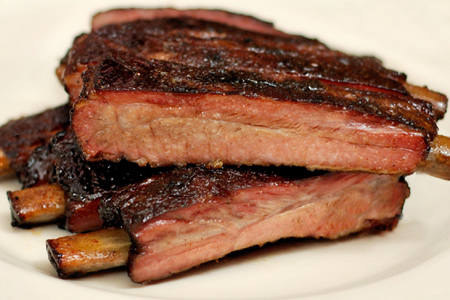 This glaze is outstanding for adding a sweet and glossy finish to your ribs. It's almost neutral in flavor so that it will nicely compliment the flavor and color of almost any rib rub.
Barbecued ribs are typically served one of two ways -- wet (sauced), or dry (rub only). I like mine either way, but I don't often serve mine dry. Last weekend the girlies wanted ribs, and I wanted to use up some of my leftover
Memphis dry rub
, so I used it on three slabs of St. Louis-style spare ribs. The rub was great, but I felt that the ribs looked dull and that they needed a bit of sweetness and tang to compliment the rub. I wanted to add something that would bridge the gap between wet and dry ribs, thus the genesis of this glaze.
This isn't just for ribs. It would work very well on almost any barbecued meat.
Caution:
As with any finishing glaze, you need to add this during the last few minutes of cooking and watch it closely. You want it to barely caramelize and not burn.
Ingredients
2 1/2 cups
Demerara sugar
, or any raw sugar
1 1/2 cups Water
1/2 cup Red wine vinegar
2 Tbsp Worcestershire sauce
1 tsp Sweet paprika
1/4 tsp Chinese five spice
1/4 tsp Smoked paprika
1/4 tsp Ground cayenne
1/4 tsp Nutmeg
Method
Combine all of the ingredients in a medium sauce pan.
Bring to a slight boil over medium heat, stirring frequently until all of the sugar is dissolved.
Remove from the heat, set aside, and let cool.
Brush or drizzle on the ribs during the last few minutes of cooking.
Add additional coats as you like.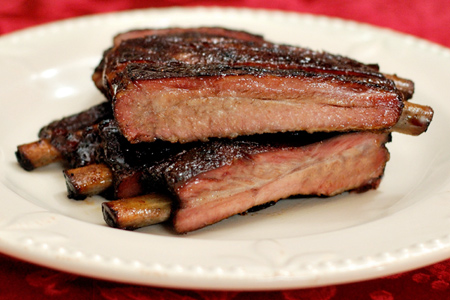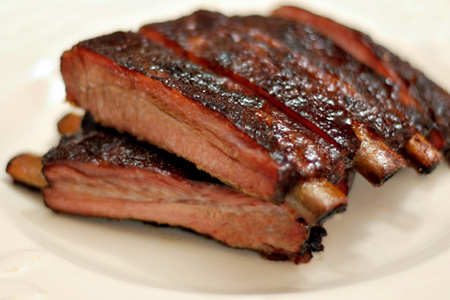 You can refrigerate the remaining glaze for up to two weeks.