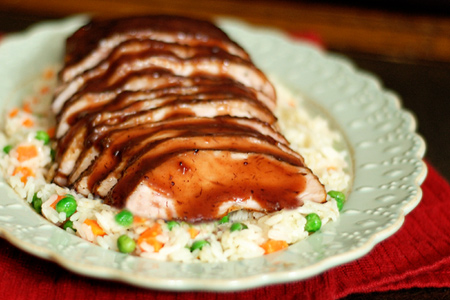 Turkey season is definitely upon us. I'm always amazed at how much interest there is online in finding new and better ways to prepare and serve a better bird at this time of year. Here's my contribution to this year's madness.
Whether you brine your Thanksgiving bird,
barbecue it
, or just roast it old-school, it can always use a little boost. Cranberry and orange are an obvious combination that really works well with turkey, and smoked turkey all but begs for a barbecue sauce all its own. This sauce is a brainstorm that I had while contemplating how I might kick my typical smoked bird up a notch using classic flavors that would complement
my brine
.
The sauce is sweet and tangy, with the subtle flavor of holiday spice and a slight lingering warm heat from the white pepper. Serve this alongside your bird and watch the reaction.
Ingredients
1 can (14 oz) Whole berry cranberry sauce (jellied is fine)
1/2 cup Orange juice concentrate, thawed
1/4 cup Brown sugar
1/8 cup Honey
2 Tbsp Butter, unsalted
2 Tbsp Sherry vinegar (or white wine vinegar)
2 Tbsp Worcestershire sauce
1 tsp Ground white pepper
1/2 tsp Chinese five spice (or allspice/pumpkin pie spice)
1/2 tsp Ground ancho chile
Method
Combine all of the ingredients in a medium sauce pan.
Bring to a slight boil over medium heat, stirring frequently until all of the ingredients are well incorporated.
Reduce the heat to a simmer and let cook for five minutes.
If you're using whole berry cranberry sauce, blend the sauce well with an immersion blender.
Remove from the heat, set aside, and let cool.
Serve the warm sauce drizzled on your sliced turkey, or serve it on the side.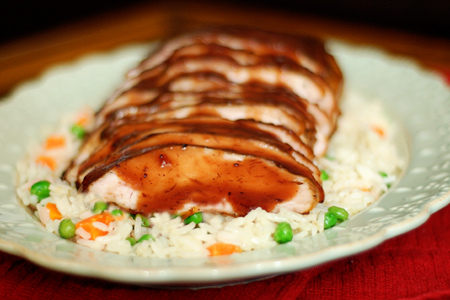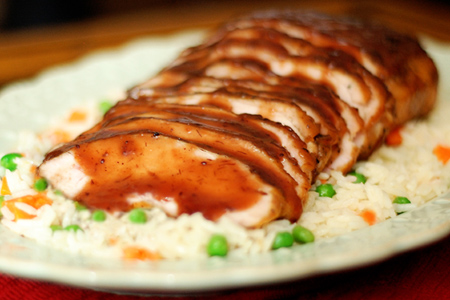 You can refrigerate the remaining sauce for up to a week.