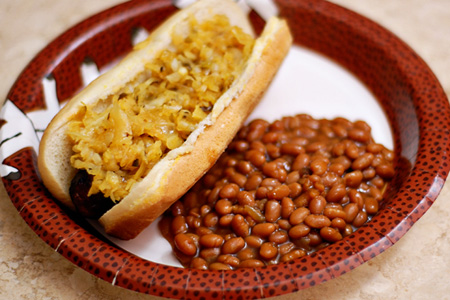 In addition to
Memphis Dry-Rubbed Wings
I served grilled brats with a funky chow chow at my driveway tailgate party. Brats are a definite tailgate classic, but this chow chow really makes them something special.
A chow chow is traditionally a relish that is, well, relished in the South. This version is decidedly different, with a base of sauerkraut and onion, the added tang of mustard and a slight spicy finish, which is perfect on brats. My inspiration was to combine many of the condiments that one might ordinarily put on a brat and add a few twists to make something unique. It worked well and my guests enjoyed it.
I paired the brats with
Bush's Original Baked Beans
. The tender sweet beans were a great compliment to the snap and tang of the brats.
Ingredients
18 Brats
18 Buns
1 batch Funky Chow Chow (recipe follows)
3 cans
Bush's Original Baked Beans
Funky Chow Chow
3 cups Sauerkraut, undrained (not from a can, please)
2 cups Yellow onions, diced small
3/4 cup Sweet pickle relish
2 Tbs Yellow mustard
2 Tbs Sugar
2 tsp Granulated garlic (not garlic "powder")
1 tsp Celery salt
1/2 tsp Smoked paprika
1/8 tsp Ground cayenne (optional)
Method
Combine all of the chow chow ingredients in a medium mixing bowl, mix well, cover and refrigerate at least two hours, preferably overnight.
Start your grill and
prepare for two-zone cooking
(indirect and direct) at medium heat (350-375º).
Grill the brats direct until they're nicely browned.
Move the brats to the indirect side of the grill and continue cooking until they reach an internal temperature of 165º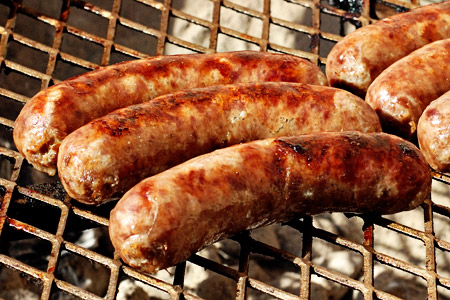 While the sausages finish cooking, warm the buns and heat the beans.
Nestle a brat in a bun, load it up with chow chow, and dish up a mess of beans.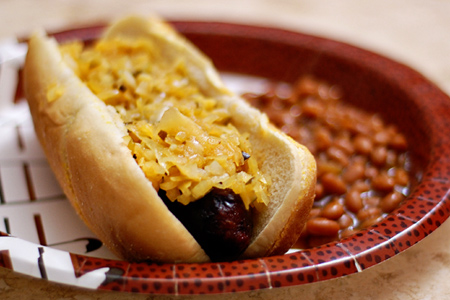 Dive in and enjoy!
Thanks!
I would like to thank
Bush Brothers
for sponsoring my gameday cookout. I've long been a huge fan of Bush's beans, and they have been nothing but a joy to work with.