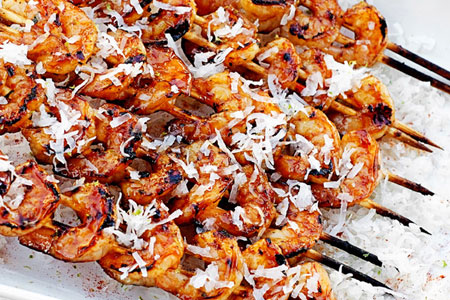 I made these skewers as part of a surf-n-turf meal for our daughter's recent sleepover. They combine sweet and a bit of heat with classic Thai flavors. The final touch is a dusting of coconut to add an interesting textural component.
I basically hate shellfish. I think I may have mentioned my saying about it in a previous post.
If it comes in a shell, and it ain't an egg, homey don't eat it.
-1 Carnivores 1:1
Given that, I didn't taste the final product. However, the ladies Hoovered them in minutes, and they offered great comments. I did taste the marinade and glaze and I can assure you that it would be great with chicken and fish.
Ingredients
1 1/2 lbs Medium shrimp (26-30 count), deveined and peeled
3/4 cup Sweetened coconut flakes
Marinade
1/2 cup Sweet chili sauce (I used Mai Ploy brand)
1/3 cup Soy sauce (I used Aloha brand because it's mellow and less salty)
1/4 cup Water
1/4 cup Thai basil, chopped fine
2 Tbsp Brown sugar
1 Tbsp Chile oil (or 1/2 tsp red chile flakes and 1 tsp oil)
1 tsp Ginger, grated or minced fresh
1 tsp Garlic, grated or minced fresh
1 tsp Sesame oil
Juice of two limes
Method
Combine all of the marinade ingredients in a small bowl, whisk very well, and let sit for at least an hour to allow the flavors to marry.
Note:
If you're using wooden skewers, soak them in water for at least an hour. I like to use two skewers side-by-side to keep the shrimp from rotating when you flip them on the grill.
Put the shrimp in a gallon zip-top bag, add the marinade, shake to distribute well, then seal and refrigerate for 30 minutes.
Start your grill and prepare for direct grilling at medium-high heat (350-375º)
Drain the marinade into a small sauce pan, bring to a gentle boil over medium heat, reduce by half to make a glaze and set aside.
Skewer the shrimp so that they barely touch each other. You don't want them crammed together.
Grill each skewer for about two minutes per side, basting periodically with the glaze.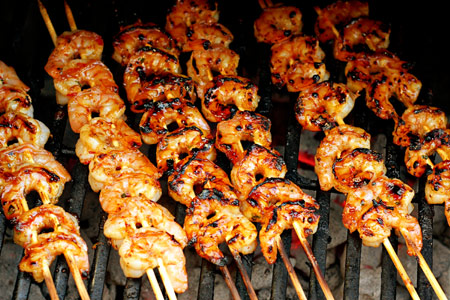 Remove the skewers from the grill, brush with the glaze, and sprinkle both sides of each with the coconut flakes.
Serve with the remaining sauce for dipping.
Enjoy!