Unknown
Permanent Link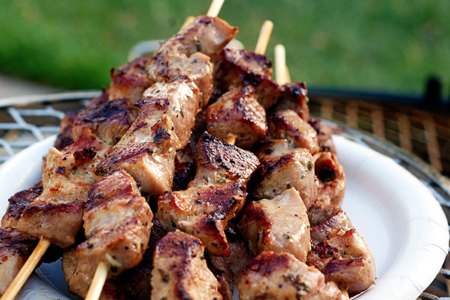 Last night for dinner I decided to do a little Greek street food. I made Souvlaki with a light Mediterranean orzo salad. How can you go wrong with grilled pig-on-a-stick on a nice sunny day? You really can't.
Traditionally Souvlaki is made of lamb, but in recent times it's often pork, or even chicken. It's simply small pieces of marinated meat that are grilled on a skewer then served either on the skewer, or on pita bread with tzatziki sauce. I served mine in the latter fashion. I also skewered and grilled some red onion and sweet peppers for toppings.
Ingredients
2 lb Pork, cut to 1 1/2" cubes (I used sirloin tip)
1/2 cup Dry white wine
3 cloves Garlic, chopped fine
1/2 cup Canola oil
1/4 cup Extra virgin olive oil
1/8 cup Fresh oregano, chopped fine
2 Tbsp Kosher salt
2 tsp Black pepper, ground fresh
1 tsp Fish sauce (optional)
1/2 tsp Ground cumin
Juice of two lemons
Tzatziki Sauce
1 1/2 cups Greek yogurt, or drained plain yogurt
1/8 cup Honey
1 medium Cucumber
1 tsp Dried dill
1 tsp Sea salt (or Kosher)
1/2 tsp Ground white pepper
1/4 tsp Granulated garlic
1/4 tsp Ground cumin
Juice of 1/2 lemon
Important:
Make sure that your dried herbs are fresh. They only last about six months, so if they're old get some new.
Method
Peel the cucumber, slice it in half lengthwise, then use a spoon to scrape out the seeds. This will help keep the sauce from being too watery.
Mince the cucumber, put it on some plastic wrap, and sprinkle with a bit of the salt.
Wrap the cucumber up in the plastic wrap and let sit for about 30 minutes. The salt will help draw some moisture out of the cucumber.
In the mean time, add all of the remaining sauce ingredients in a medium mixing bowl and whisk to combine. Cover and refrigerate.
When the cucumber has rested for 30 minutes, open one end of the plastic wrap and squeeze out as much water as you can.
Add the cucumber to the sauce, stir to combine, cover and refrigerate.
Combine all of the marinade ingredients in a large mixing bowl and whisk to combine.
Put the pork in a large zip-top bag, add the marinade, seal while removing the air.
Place the bag in a lipped pan (to catch any leaks) and refrigerate four hours.
If you're using wooden skewers, soak them in water for at least an hour.
Start your grill and prepare for direct cooking at medium-high heat (375-400º).
While your grill is heating, skewer the meat with five pieces on each skewer.
If you want to serve grilled vegetables, skewer them separately.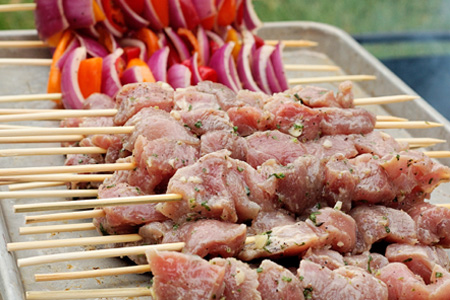 Grill the pork and veggies direct for about four minutes per side.
Serve the pork on a warm pita smeared with tzatziki and topped with some grilled veggies.
Enjoy!