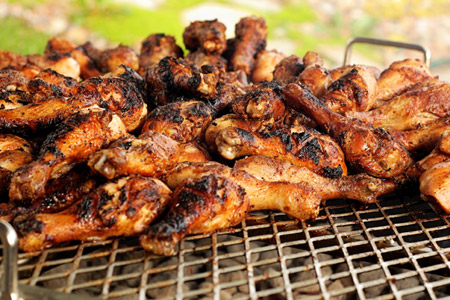 Today I served 80 barbecued chicken drumsticks for a high school graduation open house. I occasionally cook for crowds, and it requires a somewhat different approach than cooking an average meal. I thought I'd use this opportunity to share my crowd-pleasin' yardbird recipe.
The reason that cooking for a crowd requires a different mindset is because you need a relatively simple, repeatable, and scalable preparation process. You also need an end product with mass appeal. On top of that, there is very often a budgetary aspect that comes into play. In short, it comes down to producing the best product that you can, while keeping things within budget, with a reasonable workload.
Here's how I handled this mess o' yardbird. You'll obviously need to scale this recipe to fit your needs.
Ingredients
80 Chicken drumsticks
1 cup
Johnny's Seasoning Salt
(I get it at Costco)
1/2 cup
Old Bay seasoning
1 Tbsp Ground poultry seasoning (not six months old, please)
2 large (28 oz) bottles
KC Masterpiece Original
barbecue sauce
2 cups Grape jelly
1/2 cup Apple cider vinegar
1/4 cup
Tiger Sauce
(or your favorite hot sauce -- not too hot)
Method
Melt the jelly in a large sauce pan over medium heat, then remove the pan from the heat.
Add the barbecue sauce, vinegar and Tiger Sauce to the pan and whisk well to combine.
Cover the pan and set it aside.
Combine the seasoning salt, Old Bay, and poultry seasoning in a medium mixing bowl, and whisk to combine.
Lay one layer of drumsticks in each of two full-size disposable aluminum steam pans, alternating the thin and thick end of every other piece so that they fit together nicely.
Season the top side of the drumsticks liberally and evenly with the seasoning mixture.
Flip all of the drumsticks over and repeat the seasoning.
Add another layer of chicken to each pan and repeat the seasoning on both sides.
Cover the pans with foil and refrigerate 3-4 hours.
Start your grill and prepare for direct cooking at medium heat (350º). Add your smoke wood of choice just before you start cooking. I used cherry.
Arrange the chicken on your grill in the same interlocking manner that you did in the pans.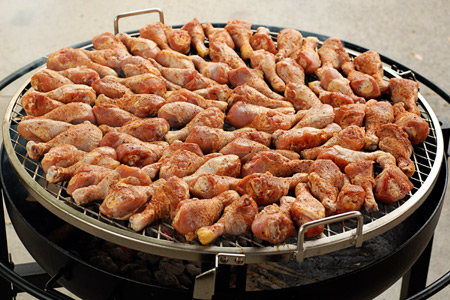 Cook the drumsticks, turning them about every 10 minutes, until the internal temperature in the thickest part of the leg reaches 175º (about one hour).
Tip:
Because you will have legs of various sizes, and zones on your grill that vary in heat, some of the pieces will cook faster than others. As you see some getting done, just stack them to the cooler side of the grill while you let the other pieces catch up. This also gives you more room to move them around.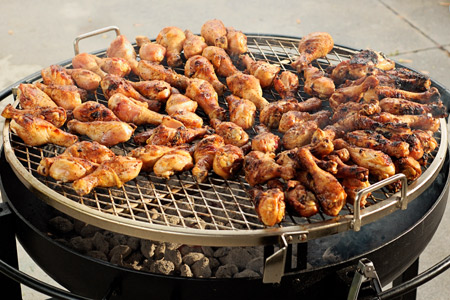 Tip:
To reuses the disposable aluminum steam pans for serving, rinse them and put them in a 325º oven for about 15 minutes while the chicken is cooking. This will kill any poultry nasties in the crevices.
Sauce the chicken by working in batches. Pour about two cups of sauce in a very large mixing bowl, then add about 15 legs and gently toss/fold to coat them in sauce.
Repeat the saucing with the remaining legs.
Optional:
If you want to set (lightly caramelize) the sauce, return the chicken to the grill for a couple minutes per side.
If you need/want to grill the chicken ahead of time it will hold nicely for an hour or two in a 170-180º oven in the pans covered with foil.
You can even barbecue them the day before. Just make sure you cook them to at least 165º internal and cool them down as rapidly as possible (you have two hours to get them down to 70º, then four hours to get them to 40º or lower). Cover and refrigerate overnight.
Note:
Do not sauce the chicken the night before if you're going to keep them in the foil pans. The acid in the sauce will react with the aluminum. Instead, brush the chicken with warm sauce just before serving.
To reheat, put the covered pans in a 350º oven for about two hours, or until the internal temperature in the thickest part of the thighs is at least 165º
Serve and enjoy!