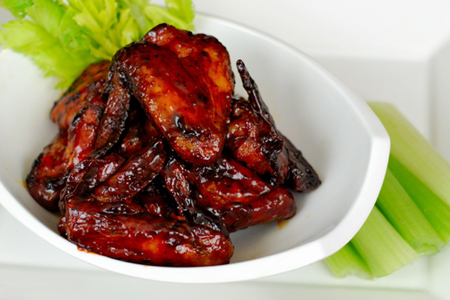 Chicken wings are certainly all-American. It seems like everyone and their dog has at least one wing sauce, and often many. All too often your choices are limited to sweet-and-wimpy or rip-your-lips-off hot. Here's my alternative that gives you a little of each.
This sauce gives you sweet and sticky, with just enough heat. The heat isn't just spicy, but it also has a more interesting and deep spicy flavor. I guess you could describe it as "sophisticated heat".
Although I offer this as a chicken sauce, it would be great on pork. It has a tangy sweetness that just screams to be tried on ribs.
Ingredients
1 cup
Frank's® RedHot®
sauce (original)
1 cup Dark brown sugar
6 Tbsp Butter, unsalted
3 Tbsp
Pickapeppa sauce
1 1/2 tsp Smoked paprika
1 tsp Black pepper, ground fine
Note:
If you don't have, or can't find Pickapeppa sauce, just use two tablespoons of ketchup and one tablespoon Worcestershire sauce, with just a pinch of ground allspice or cloves.
Combine all of the ingredients in a medium sauce pan over medium heat.
Bring the mixture just to a boil, whisking occasionally.
Remove the pan from the heat and let the sauce cool.
Brush on the chicken of your choice, serve and enjoy!
(Makes about 2 cups)