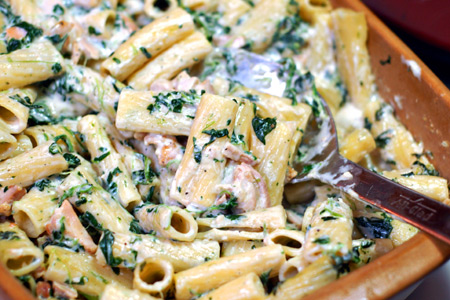 This dish is Italian-inspired comfort food at its finest. It's a long recipe, but the results are well worth the effort. Although the concept is simple, it's largely made from scratch. You could certainly substitute more pre-packaged ingredients, but the result won't be the same.
Ingredients
8 Chicken thighs, boneless and skinless
1 1/2 lb Dry rigatoni
16 oz Frozen spinach, thawed
16 oz Heavy whipping cream
4 cups Milk, 2%
8 oz Sour cream
1 cup Italian three-cheese blend (Parmesan, Asiago & Romano)
2 Tbsp Butter, unsalted
2 Tbsp Canola or vegetable oil
2 Tbsp All-purpose flour
1 1/2 Tbsp Garlic, minced
2 tsp Garlic salt
2 tsp Kosher salt
1 tsp Black pepper, ground fresh
1/2 tsp White pepper
Dash Cayenne
Dash Nutmeg
Method
Trim any excess fat from the chicken thighs.
Season both sides of the chicken evenly with the garlic salt and the black pepper.
Set aside and let sit 30 minutes at room temperature.
Start your grill and prepare for direct cooking at medium-high heat (400-450º).
Cook the pasta per the package directions until it is just shy of al dente, then drain it well.
Note:
You want the pasta a little underdone because it will finish cooking when it's baked.
While the pasta is cooking, brush the chicken with one tablespoon of the canola/vegetable oil and grill it over direct heat for three minutes per side.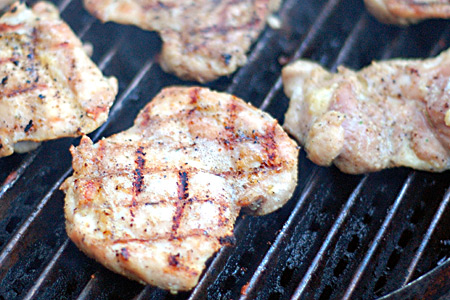 Remove the chicken to a plate and set aside.
Pour the thawed spinach on top of the draining pasta and stir to allow it to drain simultaneously.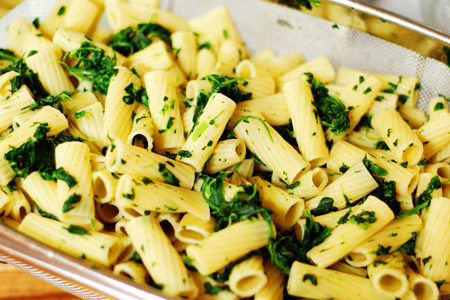 Preheat your oven to 350º.
Heat a large sauce pan over medium-high heat.
Add the butter and the other tablespoon of canola/vegetable oil and let heat 30 seconds.
Add the flour and whisk constantly to make a roux. You want a blonde roux, so cook it until it just starts to give off a nutty aroma.
Add the cream to the pan and bring just to a slight boil, whisking constantly.
Add the milk, salt, garlic, white pepper, cayenne and nutmeg to the pan and bring back to a slight boil, whisking constantly.
Add the cheese and sour cream to the pan and bring it back to a simmer, whisking constantly.
Remove the sauce from the heat.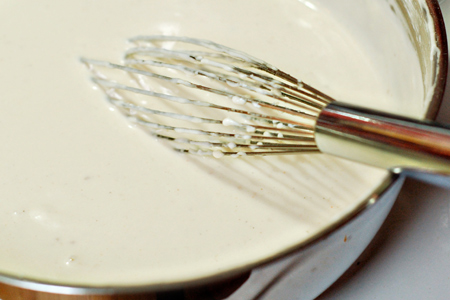 Note:
The sauce will be a little thin, but that's intentional, as it will thicken when baked with the pasta.
Slice the chicken to 1/4" and add put it in a large mixing bowl.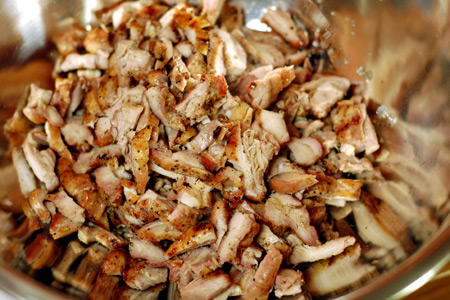 Add the pasta and spinach to the bowl.
Add the sauce to the bowl and fold to combine all of the ingredients.
Pour the pasta mixture into a very large baking dish.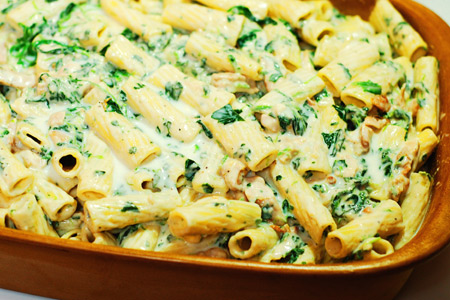 Cover the baking dish with foil, and bake 40 minutes.
Plate the pasta with shaved Parmesan.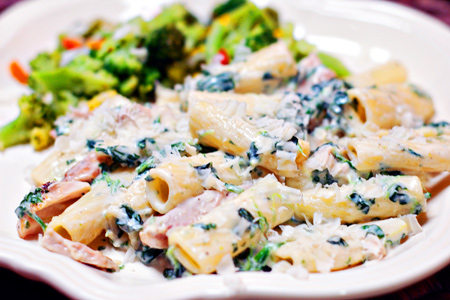 Serve and enjoy!
(Makes about 15 large servings)