Unknown
Permanent Link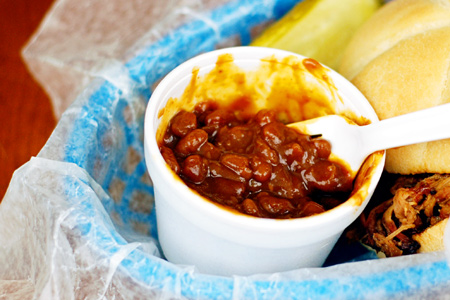 One of the required sides for a traditional barbecue meal is beans. I occasionally cook for groups, and these are what I've been serving lately. They are simple and easy to make, but they pack huge flavor. They're thick and rich with a great balance of sweet, savory, and tangy.
Another great thing about these beans is that they are a great base for adding all manner of other delicious ingredients. You could add peppers, bacon, diced ham, pulled pork, chopped brisket, or anything else you think belongs in good beans. Doctor 'em up and make them your own!
Ingredients
2 cans (55 oz) Bush's Original baked beans
3 cans (15 oz)
Original Ranch Style Beans
(or chili beans)
1/2 cup Molasses
1/2 cup Ketchup
2 medium Yellow onions, diced to 1/4"
2 Tbsp Bacon fat (or canola/vegetable oil)
2 Tbsp Plain yellow mustard
2 Tbsp Worcestershire sauce
2 Tbsp
Tiger Sauce
(or your favorite hot sauce)
1 Tbsp Apple cider vinegar
Method
Preheat your oven to 325º.
Heat a medium pan over medium-high heat.
Add the bacon fat/oil and let heat 30 seconds.
Add the onions and cook until they are translucent and just barely starting to brown on the edges.
Remove the pan from the heat.
Add all of the other ingredients, except the beans, to the pan and stir to mix well.
Add the beans (do not drain them) to a large deep baking dish.
Note:
I use disposable aluminum lasagna pans.
Add the onion and sauce mixture to the beans, and stir to combine well.
Cover the pan with foil and bake for 90 minutes.
Remove the foil, stir, and bake another 30 minutes.
Serve and enjoy!
Tip:
Of course you can cook these uncovered on your smoker to really take them over the top. You'll probably need to add a little water toward the end to loosen them up.
Makes about 28 six ounce (3/4 cup) servings