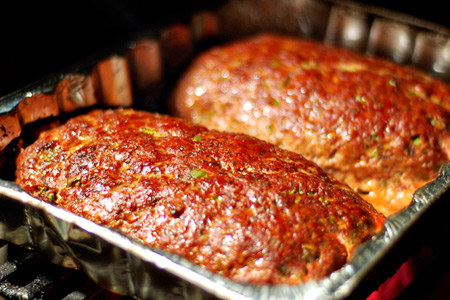 This is a new version of a recipe that
I posted
in the early days of this blog back in 2009. It's essentially the same with a few tweaks that I think make it simpler, and better.
Note:
You can certainly forgo the grilling and cook this in a 350º oven. You'll need to put the foil pan on a wire rack in a sheet pan, and adjust your cooking time.
Ingredients
1 9" x 13" foil pan
1 1/2 lb Ground sirloin
1 1/2 lb Ground chuck
3 Eggs, slightly beaten with a fork
1 med Green pepper, diced small
1 can (10 1/2 oz) Condensed French onion soup
3/4 cup Bread crumbs
1/8 cup Worcestershire sauce
2 Tbsp Ketchup
1 Tbsp Dried parsley
1 Tbsp New Mexico chile powder
1 tsp Black pepper, freshly ground
1 tsp Dried oregano
1/2 tsp Dried thyme
1/2 tsp Ground cumin
Method
Prepare your grill for indirect cooking over medium-high heat (350-375º).
Poke 12-14 holes in the bottom of the foil pan. I used a knife and made slots about the size that a penny would fit through.
Wash your hands, and prepare to get messy.
Put the ground beef in a large mixing bowl and make a well in the center.
Add all of the remaining ingredients to the well.
Roll up your sleeves, get your hands in there, and mix everything evenly so that all of the ingredients are well incorporated. Be careful not to mix so much that the mixture turns to a pasty consistency.
Divide the meat mixture evenly into two portions.
Form each portion into a loaf that's about eight inches long and relatively even in thickness. You want it to be solid with no air pockets and a smooth exterior.
Put each loaf in the pan, centered and separated from each other.
Cook indirect on the grill for about an hour, or until the center of each loaf reaches an internal temperature of 160 degrees.
Remove the pan from the grill, tent the with foil, and let rest 15-20 minutes.
Slice, serve and enjoy!
Optional:
Glaze with your favorite BBQ sauce during the last 10 minutes of cooking.