Unknown
Permanent Link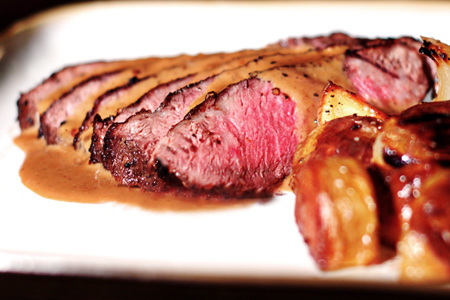 This meal was inspired by
a recent post at The Pioneer Woman
. Ree prepared an incredible-looking Filet au Poivre that really got to me. I knew almost instantly that it was something that I just had to try.
In short, steak au poivre is a simple steak that is seared, finished in an oven, then served with an incredible pan sauce made from the fond (the tasty brown bits stuck to the bottom of the pan), stock, cognac, and butter.
While I was getting ready to make this I remembered a great cookbook that I don't use nearly often enough --
Anthony Bourdain's Les Halles Cookbook
. Based purely on the French-ness of the recipe I thought that he would almost certainly include a recipe for this dish. I was correct.
Ree's recipe sounded great, but so did Bourdain's. He opted for a more traditional approach, but offered variations that Ree included. I decided to merge the two recipes using a flat iron steak. The results were simply incredible.
I can say in all honesty that this was the second best beef that I have ever eaten. Yes, it's really
that
good. I urge you to try this at your earliest possible convenience.
Ingredients
1 3/4 lb Flat iron steak (USDA choice)
1/4 cup Olive oil
1/4 cup Cognac or brandy (I used brandy)
1/2 cup Heavy whipping cream
1/2 cup Water, hot
8 Tbsp Butter, unsalted
3 Tbsp Black peppercorns, cracked to a medium consistency
1 Tbsp Dijon mustard
1 Tbsp Beef base (I used
Better Than Bouillon
)
Kosher salt
Method
Season each side of the steak with about a teaspoon of salt.
Lightly oil both sides of the steak and coat each side with half of the crushed peppercorns.
Note:
It will look like too much pepper, but just go with it.
Let the steak sit at room temperature for about 30 minutes.
Preheat your oven to 425º
Heat a large heavy oven-safe pan (I recommend cast iron) over medium-high heat.
Add the remaining oil and half of the butter to the pan.
Sear each side of the steak until it is browned nicely.
Move the pan to the oven and cook for 10 minutes (for medium rare).
Mix the beef base and hot water well in a small bowl and set aside.
Remove the pan from the oven, move the steak to a platter, tent with foil, and let it rest.
Put the pan on a burner at medium heat.
Add the beef base and water mixture and bring just to a boil while scraping the fond (brown bits) from the bottom of the pan.
Add the mustard and cognac/brandy and continue stirring until the mustard is well-incorporated.
Add the remaining butter and heavy cream and stir to combine.
Adjust the seasoning of the sauce with salt to taste.
Reduce the heat and continue cooking the sauce until it coats the back of a spoon.
Slice the steak across the grain to about 1/4" and serve drizzled with the sauce.
I served mine with Yukon gold potatoes and yellow onion wedges that were roasted with olive oil, salt, and pepper.