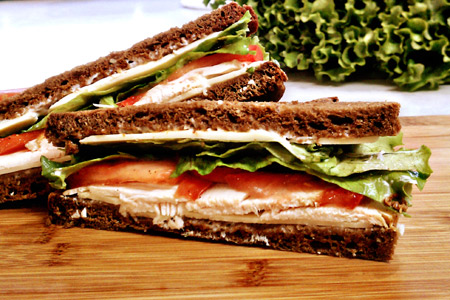 In our family we make the Thanksgiving feast again for Christmas. As I made myself a turkey sandwich from the leftovers this afternoon I pondered it and felt compelled to comment.

I find it fascinating that the simple and humble turkey sandwich is probably as beloved as the dinner from which it descends, maybe even more so. It's also interesting to me that, when discussing Thanksgiving dinner, people almost reflexively mention the leftovers. At the top of the list of leftover plans is almost always the sandwich.

Most folks like to keep theirs simple with mayo, tomato and lettuce. I like to add baby swiss to mine. As for bread, my favorite is Classic Black. It's hearty, dark brown, and slightly sweet. It's sort of like a more dense version of the rolls they serve at Outback Steakhouse.

I think that the simple turkey sandwich might just be the second best sandwich ever -- next to the Reuben, of course.

Note: Please excuse the cell phone picture.
Labels: poultry