Unknown
Permanent Link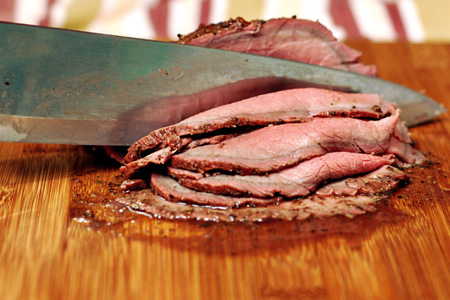 This past weekend I finally got around to making Italian beef on the grill. It's something that I've long thought about trying, but never seemed to get to.
Italian beef is an institution in the Chicago area. Here is how it's described at
Wikipedia
:
An Italian beef is a sandwich of thin slices of seasoned roast beef, dripping with meat juices, on a dense, long Italian-style roll, believed to have originated in Chicago, where its history dates back at least to the 1930s. The bread itself is often dipped (or double-dipped) into the juices the meat is cooked in, and the sandwich is typically topped off with Chicago-style giardiniera (called "hot") or sauteed, green Italian sweet peppers (called "sweet").
Since this was my first time trying this the recipe is a work-in-progress. I used eye of round marinated overnight in a concoction that I felt worked well. The next time I try this I think I'll hit the roast with a
Jaccard
to help the marinade penetrate more.
Let's get our eye-talian on!
Ingredients
3 lb Eye of round
2 cups Water
1 Tbsp Beef base (I prefer
Better Than Boullion
)
Hearty Italian rolls
Your favorite giardiniera (I used
Mezzetta
)
Marinade
1/4 cup Water
1/4 cup Red wine vinegar
1/4 cup Canola oil
1 Tbsp Dry Italian seasoning
1 Tbsp Sugar
2 tsp Garlic salt
1 tsp Black pepper
1 tsp Tabasco sauce
Method
Trim any silverskin from the the roast.
Combine all of the marinade ingredients in a one-gallon zip-top bag, seal and shake well.
Add the roast to the bag and seal, removing as much excess air as possible.
Refrigerate at least eight hours, or preferably overnight.
Remove the roast from the marinade and let sit, covered at room temperature, for about 90 minutes.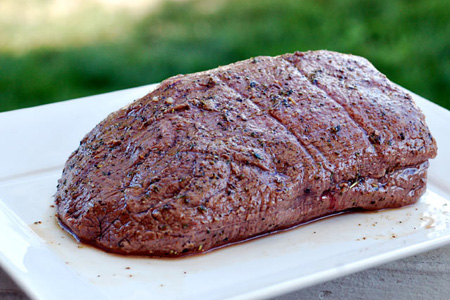 Start your grill and prepare for indirect cooking over a medium fire (325-350º). I used oak lump charcoal.
Cook the roast indirect until it reaches 135-140º, approximately two hours.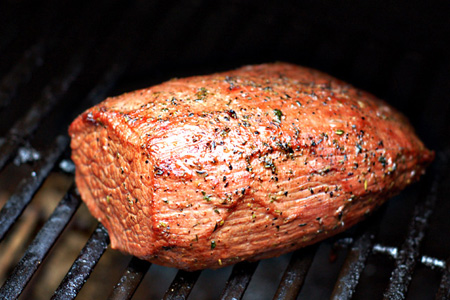 Pour the marinade from the bag into a medium saucepan and bring to a gentle boil over medium heat. Let boil for five minutes, stirring occasionally.
Note:
The pan has to be large enough to hold the roast flat on the bottom.
Add the water and beef base to the pan, reduce the heat, and simmer one minute.
Remove the pan from the heat, cover and set aside.
When the roast is done (135-140º internal), remove it from the grill and add it to the pan. Cover and let rest 30 minutes.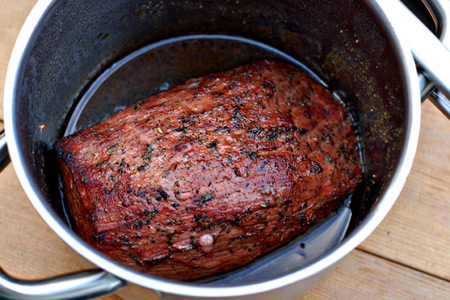 Slice the beef very thin across the grain.
Warm your rolls in the oven.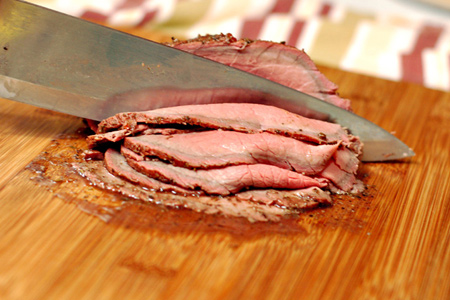 Pile some beef on a roll, drizzle the meat and roll with the au jus, and top with some giardiniera (I chopped mine a little).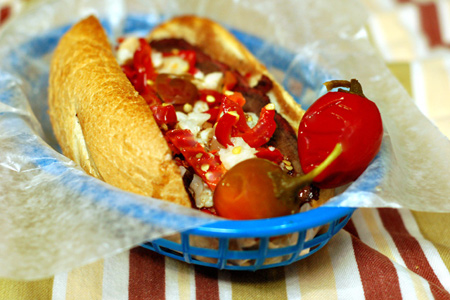 Enjoy!
What does a guy do with the leftovers? He makes an Italian beef pizza.