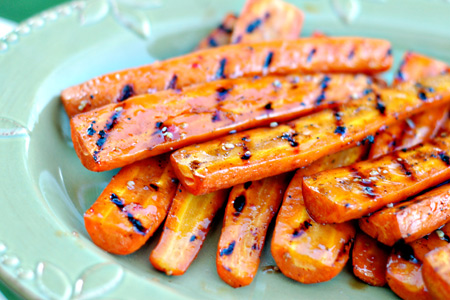 Here is a great quick and brain-dead-easy grilled side dish that can compliment a wide variety of dishes. If you've got the grill fired up, these take mere minutes. How can you really go wrong with carrots, balsamic, and honey?

Ingredients
6 carrots (as equal in size as possible)
1/8 cup Balsamic vinegar
1/8 cup Honey

Method
Combine the balsamic and honey in a small bowl, whisk to combine and set aside.

Peel, trim and slice the carrots in half horizontally.

Put them in a zip-top bag and seal, leaving about an inch unsealed.

Cook the carrots on high in the microwave for two minutes, or until they are slightly flexible. This shortens the grilling time greatly.

Note: You may need to adjust the cooking time depending on the size of your carrots and the power of your microwave.

Grill the carrots on a medium-high grill (about 400*) for three minutes.

Flip them over, brush them with the glaze and continue grilling another three minutes.

Remove the carrots to a platter and brush them with the glaze.

Serve and enjoy.