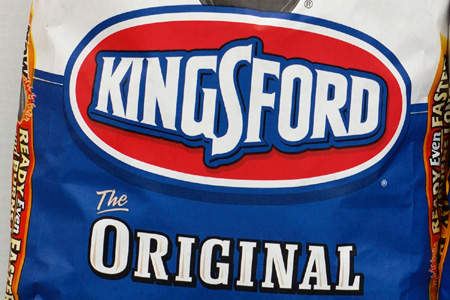 Today I received these amazing facts from the folks at Kingsford®. I know that they are far and away the number one seller of charcoal in the U.S., but I had no idea how much Americans burn. Wow! That's all I can say.
Americans Declare Their Love for Labor Day Cookouts
More Than 55.8 Million Pounds of Kingsford® Charcoal Fired Up
Labor Day weekend marks the kick off to the college football season in most parts of the country – one of the biggest reasons to tailgate with friends and family whether it's at home or in your own backyard. In fact, Americans love Labor Day cookouts so much that they fire up more than 55.8 million pounds of charcoal
[1]
. This year, don't put your grill away on Labor Day; keep it out for game day all season long to extend the summer fun.
Top 10 Cities for Labor Day Weekend Charcoal Usage (pounds)
Los Angeles (2,585,845)
Chicago (1,510,639)
Houston (1,357,731)
San Antonio/Corpus Christi (1,326,020)
New York (1,193,400)
Atlanta (1,147,297)
Dallas/Ft Worth (1,119,805)
St. Louis (1,057,567)
Baltimore, Md./Washington D.C (951,129)
Birmingham/Montgomery, AL (865,977)
How Heavy is 55.8 Million Pounds of Charcoal?
It's the weight of more than 16,185 Sprint Cup NASCAR racecars! Plus, Americans use enough Kingsford® charcoal on Labor Day to go around the Talladega Superspeedway, the longest NASCAR oval, more than 464 times. Watch out – the number 47 Kingsford® car will be racing on Labor Day weekend.
Think the Statue of Liberty is heavy? Americans fire up more than 124 times the weight in Kingsford® charcoal of Lady Liberty on Labor Day.
Enough to Pack a Football Stadium
The amount of Kingsford® charcoal used on Labor Day is enough to...
Cover more than 113 football fields.
Fill the seats of the largest college football stadium (Beaver Stadium in University Park, Penn.) 32 times.
More Food for Thought
The Kingsford® charcoal sold during Labor Day would measure up to more than of 224 times the height of Mt. Everest.
The number of bags of Kingsford® Charcoal used on Labor Day would measure up to more than 3,769 times the height of the tallest building in the United States, the Willis tower in Chicago.
On Labor Day, enough Kingsford® charcoal is sold to fill more than 28 Olympic-size swimming pools (2,489,603 cubic feet of charcoal).
For more fun facts or to share some of your own, visit the
Kingsford® charcoal Facebook page
. While there, find out how you can prove your college football knowledge for the chance to win a backyard makeover worth more than $10,000 and other weekly prizes (Aug. 4 through Dec. 4, 2010).
[1]
Numbers determined by Kingsford® charcoal sales from August 31 – September 12, 2009 / Source: Kingsford® Charcoal
Labels: kingsford