Unknown
Permanent Link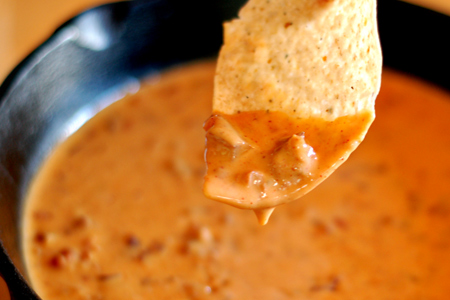 Here is a quick and easy recipe for a great queso dip. It combines chorizo and chili beans with chile powder and hot sauce to create a great cheesy dip for tortilla chips. Of course, you should adjust the chili powder and hot sauce to fit your taste. More is almost always better.
Ingredients
1 cup Chorizo, chopped fine
1 can (15 oz) Chili beans, undrained (I used
Bush's
)
16 oz
Velveeta® Mexican Mild
, cubed to 1/2"
3/4 cup Whole milk
1 tsp New Mexico chili powder
1 tsp Your favorite hot sauce
Method
Brown the chorizo in a non-reactive skillet over medium-high heat.
Add the beans and bring just to a simmer.
Reduce the heat to medium-low, add the cheese and let it melt.
Add the milk, chili powder and hot sauce, then bring back to a low simmer.
Reduce heat to low.
Mash the beans gently with a potato masher and stir to recombine.
Serve warm with tortilla chips and enjoy!
Note:
You can adjust the consistency of the finished dip by adding milk to make it thinner, or by letting it reduce to tighten it up.