Unknown
Permanent Link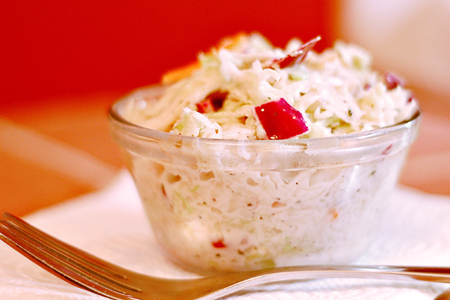 There are some foods that are highly personal. They are the kinds of food that tend to evoke intense memories that are usually tied to one's upbringing. The first one that pops to mind for me is the Thanksgiving feast. That's about as intensely personal as it gets for me. Well, sauerkraut and pork is a very close second. Oh, and spaghetti is another. Then there's lasagna, but I digress...
I've found that, within barbecue circles, there are a handful of side dishes that are also intensely personal. Coleslaw is just such a side. If it ain't like mama made, it just ain't right!
In my experience there are two major slaw camps -- creamy, and non-creamy. I am tempted to call the second camp "vinegary", but I don't know if that's the term I'm after. Perhaps they might prefer the "creamy slaw sucks" moniker.
With all that said, I think I have developed a slaw recipe that will appease everyone in the creamy vs. non-creamy debate. This slaw is decidedly creamy enough, but also vinegary enough to be at home on a pulled pork sandwich. Oh, and it's pretty healthy, too.
OK, that's enough chatter. Let's make some slaw!
Ingredients
2 bags (16 oz each) Tri-color slaw
3/4 cup Buttermilk
1/2 cup Sugar
1/4 cup Mayonnaise
2 Tbsp Canola oil
2 Tbsp Apple cider vinegar
2 1/2 tsp Garlic salt
1 tsp Peanut butter, creamy-style
1/2 tsp Celery salt
1 tsp Black pepper, ground fresh
1/8 tsp
Maggi Seasoning
Juice of 1/2 lemon (approximately 1 Tbsp)
Note:
If you can't find Maggi Seasoning, just use a dash each of Worcestershire sauce and soy sauce.
Method
Combine all of the ingredients, except the slaw mix, in an extra-large mixing bowl.
Whisk the dressing until all of the ingredients are smooth and well-incorporated.
Add the slaw mixture and fold it in to coat it all evenly.
Cover, refrigerated, for at least two hours or overnight, stirring occasionally.
Serve and enjoy.
P.S. Here's the story behind the peanut butter.
I usually put roasted peanut oil in my slaw, but I couldn't find any locally and I was in a jam (no pun intended). So, I decided to simply use canola oil and peanut butter, since I was after a light peanut flavor.
Don't let it scare you off. My kids say that this is absolutely the best slaw that I've ever made.