Unknown
Permanent Link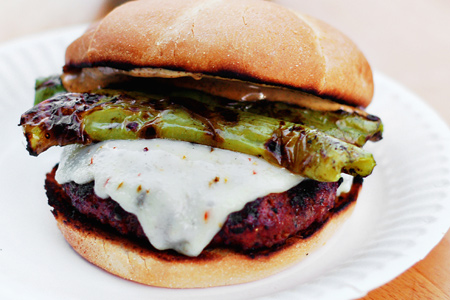 As a Master of Flavor correspondent for
Grill Mates®
I'm posting a series of recipes and videos that feature some of the latest flavor trends, tips and techniques from the
Grilling Edition
of the annual McCormick Flavor Forecast.
This time out I demonstrate how to use Grill Mates® Mexican Fiesta marinade mix to transform an ordinary burger into a masterpiece signature burger. Along the way I share some great tips that will help make you a serious backyard burger-meister.
This recipe starts with a mixture of two types of ground beef and the Grill Mates® maridade mix; and we finish with melted pepper jack cheese, grilled green chiles, and a tangy ancho-lime mayonnaise. Again, this is a serious signature burger that packs huge flavor and wow-factor.
Ingredients
1 lb Ground chuck
1 lb Ground sirloin
1 envelope
McCormick Grill Mates® Mexican Fiesta
marinade mix
4 Tbsp Water
4 Anaheim chiles
4 slices Pepper-jack cheese
4 large Hamburger buns
2 tsp Black pepper, ground fresh
Canola oil spray
Mayonnaise
1/2 cup Mayonnaise
1 1/2 tsp
McCormick® Gourmet Collection Ancho Chile
1/2 tsp
McCormick Grill Mates® Garlic & Onion Medley Seasoning
Juice of 1/2 lime
Note:
If you can't find ground chuck and/or sirloin, simply use 80/20 ground beef.
Method
Combine all of the ground beef, the marinade mix, and the water in a medium mixing bowl.
Use your hands to mix the ingredients very well. Yes, it's messy.
Divide the meat into four equal portions and form them into evenly-sized patties 1/2" thick patties (about six inches in diameter).
Sprinkle both sides of each patty with pepper.
Use your index finger to put a hole in the center of each patty and set them aside.
Wash the peppers under cold water and drain well.
Remove the stem end of each pepper, and about 1/2" of the tip end.
Slice each pepper lengthwise and remove the seeds and veins.
Put the peppers in a zip-top bag and seal the bag 3/4 of the way.
Microwave the peppers in the bag at medium-high for two minutes.
Remove the peppers from the bag and onto a plate, and let cool.
Prepare your grill for direct and indirect cooking at medium-high heat (about 425º).
Lightly oil both sides of each burger with the canola oil spray.
Grill the burgers over direct heat for three minutes.
Combine all of the mayonnaise ingredients in a small mixing bowl, whisk well and set aside.
Add the peppers, skin side down, to the open spaces of the grill.
Flip the burgers and cook them another three minutes.
Move the burgers to the cooler side of the grill and top each with a slice of cheese.
Toast the buns over direct heat.
Top each burger with two slices of grilled green chile.
Put each burger on a bun and smear each bun top with a good dose of the ancho-lime mayo.
Serve and enjoy!
See more:
To check out what's hot in grilling, head over to the
Grill Mates® Facebook page
each Friday from June through August for the new episode of "This Week in Grilling".
Note:
This recipe and video were produced in partnership with McCormick Grill Mates®