Unknown
Permanent Link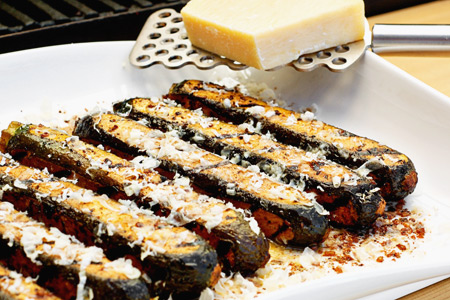 As a Master of Flavor correspondent for
Grill Mates®
I'm posting a series of recipes and videos that feature some of the latest flavor trends, tips and techniques from the
Grilling Edition
of the annual McCormick Flavor Forecast.
In this installment I'll show you how to use Grill Mates® Garlic & Onion Medley Seasoning to take grilled zucchini to an interesting and delicious new level. The bold garlic and onion pair perfectly with zucchini in a balsamic vinaigrette to create a great grill-friendly side dish.
Ingredients
12 Baby zucchini (about 4-5 inches long and an inch in diameter)
1 1/2 Tbsp
McCormick Grill Mates® Garlic & Onion Medley Seasoning
1/4 cup Canola oil
1/8 cup Balsamic vinegar
2 tsp Black pepper, ground fresh
Parmesan cheese, to taste
Note:
If you can't find baby zucchini use normal sized ones that are quartered lengthwise.
Method
Wash the zucchini under cold water and drain well.
Trim about 1/8" from the stem of each squash.
Square each zucchini by removing a sliver from each side.
Combine the seasoning, oil, vinegar and pepper in a large zip-top bag.
Seal the bag and shake to combine the marinade ingredients.
Add the zucchini to the bag, seal, and set aside for one to two hours.
Prepare your grill for direct cooking at medium heat (about 350º).
Oil the cooking grate lightly with canola oil.
Remove each zucchini from the bag, shake off the excess marinade, and lay them on the grill at a 45º angle. Reserve the marinade left in the bag.
Grill each side until they are nicely browned, about 2-3 minutes.
Lightly brush the zucchini with a small amount of the marinade each time you turn them.
Remove the zucchini to a platter in a single layer and immediately shave the cheese over them to taste.
Serve and enjoy!
See more:
To check out what's hot in grilling, head over to the
Grill Mates® Facebook page
each Friday from June through August for the new episode of "This Week in Grilling".
Note:
This recipe and video were produced in partnership with McCormick Grill Mates®