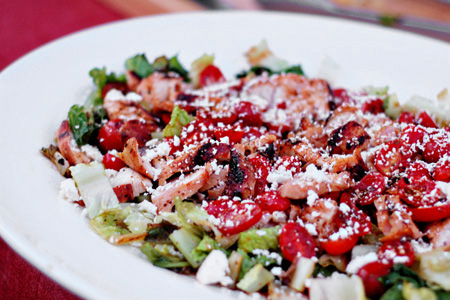 I've been fortunate to have been invited to participate in a unique "Take On Turkey" video recipe contest from the good folks at
Honeysuckle White®
and
Shady Brook Farms®
. They selected 17 grilling bloggers from across the nation to submit a short video featuring our best grilled turkey recipe.
My recipe features Basque-inspired grilled turkey breast tenderloins served atop grilled romaine lettuce and then topped with a tangy vinaigrette, marinated grape tomatoes, and a dusting of cotija cheese.
As I mention in the video, this is a great light summer dish that is quick and easy to make, but it packs a ton of flavor and wow-factor.
If you like this recipe, I would really appreciate your vote
here
. Thanks in advance.
Ingredients
1 package
Honeysuckle White® turkey breast tenderloins
(2 per package)
2 Romaine hearts, cleaned and sliced lengthwise (cores intact)
1 ½ cups Grape tomatoes, cut lengthwise
1/4 cup Cotija cheese, grated
1 Tbsp Canola oil
Brine
3 cups Ice water
1 cup Boiling water
1/3 cup Brown sugar
1/4 cup Sea salt
2 Tbsp Seasoned salt
1 tsp Black pepper
Marinade/Dressing
1/4 cup Canola oil
1/8 cup Extra virgin olive oil
1/8 cup Honey
Juice of 1 1/2 lemons
2 tsp Sweet paprika
1 tsp Garlic salt
1 tsp Dry oregano
1 tsp Black pepper, ground fresh
1/2 tsp Dry thyme
1/8 tsp Ground cayenne
Method
Whisk together all of the brine ingredients, except the ice water, in a small mixing bowl.
Add the hot liquid to the ice water in a larger bowl or zip-top bag.
Stir to combine then add the turkey.
Cover or seal and refrigerate for 2-4 hours.
Combine all of the marinade/dressing ingredients, except the tomatoes, in a medium mixing bowl.
Whisk well to combine.
Add the tomatoes, stir and set aside.
Prepare your grill for direct cooking over medium-high heat (about 375*-400*).
Coat both sides of each tenderloin liberally with canola oil.
Grill the turkey tenderloins over direct heat for 5 minutes.
Flip the tenderloins over and baste them with the dressing.
Continue cooking until the thickest part of each tenderloin reaches an internal temperature of 165º.
Baste the tenderloins again and remove them to a plate, cover and let rest five minutes.
Note:
A zip-top bag also works well for resting.
Brush the cut side of each romaine heart half with the dressing.
Grill each lettuce half, cut-side-down, over a hot direct fire for about 90 seconds.
Remove the romaine to a cutting board and let cool.
Rough chop the lettuce and arrange it on a serving platter.
Slice each tenderloin across the grain to 1/4 inch and arrange the slices evenly on top of the lettuce.
Pour the remaining dressing and tomatoes evenly over the turkey and lettuce.
Sprinkle the top of the entire salad with the cotija cheese.
Serve and enjoy!