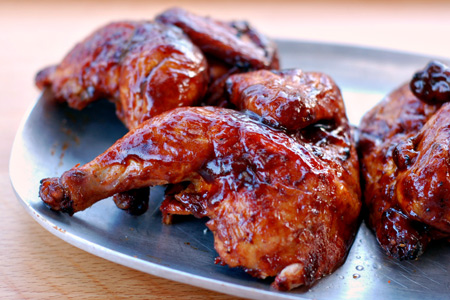 As a Master of Flavor correspondent for
Grill Mates®
I'm posting a series of recipes and videos that feature some of the latest flavor trends, tips and techniques from the
Grilling Edition
of the annual McCormick Flavor Forecast.
This time out I demonstrate the layering of four different flavors on some Cornish game hens. I start with a brine, then I add a healthy dose of
Grill Mates® Sweet & Smoky Rub
. Next they get the great flavor of indirect grilling over charcoal. Finally, I finish them with a sticky coating of barbecue sauce.
Ingredients
2 Cornish game hens (24 oz), thawed and rinsed with giblets removed
3 cups Ice
2 cups Hot water
1/3 cup Kosher salt
1 can (12 oz) Apricot nectar
2 Tbsp
Grill Mates® Montreal Chicken Seasoning
2 Tbsp
Grill Mates® Sweet & Smoky Rub
2 small cans (5.5 oz) Apple juice
1/2 cup Your favorite barbecue sauce
Canola oil cooking spray
Method
Combine the hot water and salt in a large bowl and stir until the salt is dissolved.
Add the ice, nectar and Montreal Chicken Seasoning to the bowl and mix well.
Add the hens to the brine, cover and refrigerate six hours.
Note:
Make sure that the birds are completely submerged.
Once the hens are done brining, remove them from the liquid, drain them completely and pat them dry with paper towels.
Prepare your grill for indirect cooking at medium heat (about 375º).
Coat each hen liberally (including the cavity) with the rub.
Coat the skin of each hen with the cooking oil spray.
Open the cans of juice and pour out about half.
Insert the open end of a can into each hen cavity.
Set the cans with the birds upright on the grill away from the direct heat.
Grill the hens indirect for an hour and 15 minutes, or until they reach an internal temperature of 170º in the thigh.
Remove the can from each bird, return them to the grill and coat each liberally with barbecue sauce.
Continue cooking the hens five more minutes.
Split the hens in half, serve and enjoy!
See more:
To check out what's hot in grilling, head over to the
Grill Mates® Facebook page
each Friday from June through August for the new episode of "This Week in Grilling".
Note:
This recipe and the associated video were produced in partnership with McCormick Grill Mates®