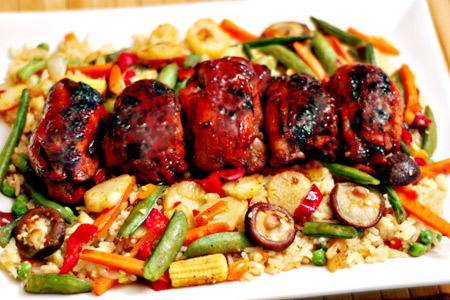 The other night I had a pile of boneless-skinless chicken thighs on death row, so I thought I'd use them as an opportunity to work up a new recipe. It's nothing really fancy, just some Asian-marinated thighs grilled on skewers that I served over some fried rice and stir-fried veggies.
Ingredients
15 Boneless/skinless chicken thighs, trimmed of excess fat
10 skewers (I use bamboo)
Marinade
1/2 cup Soy sauce
3/4 cup Pineapple juice
3/4 cup Coke classic (a natural tenderizer)
4 cloves Garlic, crushed
1 Tbsp Ginger paste
1 tsp Chinese five spice
1/2 tsp Black pepper, ground fresh
1/2 tsp Red pepper flakes
Glaze
1/2 cup Chili sauce (Heinz, of course)
1/3 cup Hoisin sauce
1/4 cup Rice wine vinegar
1/4 cup Pepper jelly
1/4 tsp Chinese five spice
Method
Combine all of the marinade ingredients in a large zip-top bag, seal and shake gently to combine.
Add the chicken thighs to the bag, seal (removing the excess air) and squish the chicken around to ensure even coverage.
Put the bag in a bowl or baking dish and refrigerate for four hours.
Combine all of the glaze ingredients in a small sauce pan.
Bring the glaze just to a boil over medium heat.
Remove from the heat and set aside.
If you plan to use bamboo skewers, soak them submerged in water for at least an hour.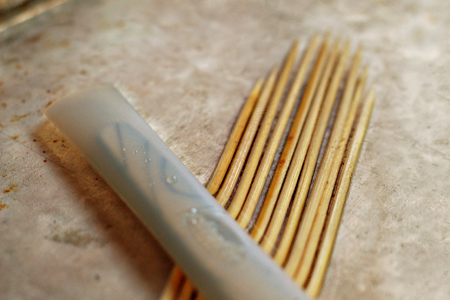 Prepare your grill for indirect cooking at medium-high heat (about 375*).
Remove the chicken from the marinade and drain well.
Slide three chicken thighs onto a pair of parallel skewers (about an inch apart).
Repeat with the remaining thighs.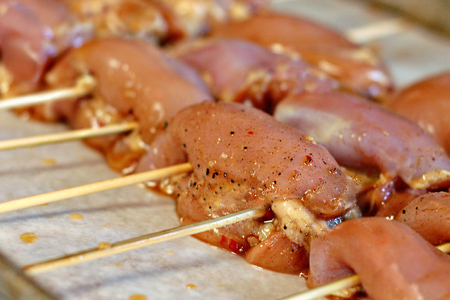 Grill the chicken over direct heat for about two minutes, or until they are seared nicely.
Flip the skewers over and sear the other side.
Move the skewers to the indirect side of the grill and cook them until the internal temperature is 165* (about 10-15 minutes).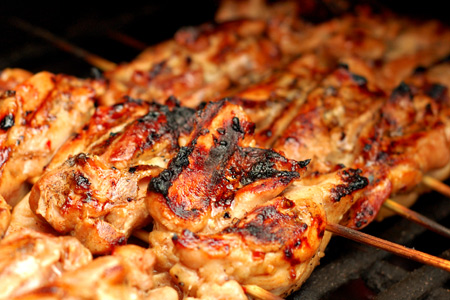 Brush both sides of the chicken with the glaze and quickly move them over the direct heat for a minute or so. You just want the glaze to get sticky and lightly browned.
Flip the skewers over and cook another minute.
Remove the skewers from the grill, coat them again with the glaze.
Serve and enjoy!