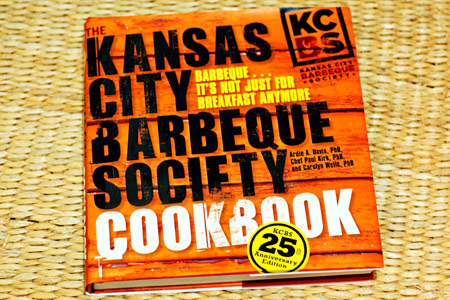 The other day I was walking toward the front door of the house when I spied a large package propped up next to the door. Upon closer inspection I saw that it was for me, and it was from Simon & Schuster. Of course, that meant that a review book awaited. I ripped it open, and what you see above was inside --
The Kansas City Barbeque Society Cookbook, 25th Anniversary Edition

I am always happy to review books that are sent to me, but this one was a little more special. Although Ardie A. Davis, Paul Kirk and Carolyn Wells are listed as the authors, this is a collection of recipes from all across the KCBS barbecue world. As the title indicates, this is part of the celebration of 25 years of KCBS history.

Let me start by saying that this is a book that has a very "high school yearbook" feel to it. This is somewhat expected, given its anniversary nature. The design is nice and the layout is clean. Each recipe includes a snippet of information about the author and/or the food. Some contributors, like Paul Kirk, are clearly featured much more than others. This became more and more evident the further into it I went.

When viewed purely as a cookbook there are two glaring areas where it falls flat for me -- photography and creative recipes. Don't get me wrong, there are some bright spots, but many of the recipes are not all that inspiring. The photography is poor, period. I understand that the "high school yearbook" feel that I mentioned lends itself to a scrapbook approach, but pictures of the food are few and very far between. The ones that are there are mediocre at best. People enjoy the story behind the recipe, but they also need to see the end result. This is what makes a recipe compelling. The visual is what makes you want to try the recipe.

In the end it was honestly a letdown. I really appreciate the passion of the contributors, but the overall impression that I was left with was that it seemed thrown together. If you are looking for a book that tells snippets of the KCBS story with some good recipes in the mix, this might be for you. If you are after a serious barbecue cookbook, there are many others that will serve you much better.