Unknown
Permanent Link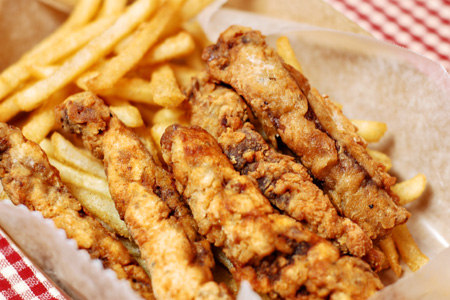 Finger steaks were invented right here in my adopted hometown of Boise, Idaho. The story is that Milo Bybee, chef at Milo's Torch Lounge, created them in 1957 as a means of disposing of leftover tenderloin.
To be completely honest, I really don't care who invented them and when; they are seriously good.
Many of you now have a look on your face that resembles a dog that just heard a strange noise. "What in the world is a finger steak?!", you ask.
It's simply a strip of steak that is battered and deep fried. Deep fried steak... Just sit there and let that marinate in your brain for a minute.
Yeah, it's way good.
I've eaten my fair share of finger steaks and, while the originals were apparently made with tenderloin, most are dry and forgettable. I decided to try to make a version that is true to its roots without breaking the bank.
My recipe calls for flat iron steak. It's a vastly under-appreciated cut that is often referred to as the second most tender steak on the steer. It offers great flavor and outstanding tenderness at a small fraction of the price of tenderloin. As an added bonus, it's long and slender shape and generally uniform thickness is tailor-made for finger steaks.
OK, that's enough history and anatomy. Let's get cookin'!
Ingredients
1 1/2 to 2 lb Flat iron steak (or top round)
1 cup flour
1 Egg, beaten
1 1/2 Tbsp Seasoned salt (or a salty BBQ rub)
1 tsp Black pepper
1/4 cup Buttermilk
1/4 cup Dark beer
1 Tbsp Hot sauce (I use
Frank's® Red Hot®
or
Crystal
)
MethodNote:
If you're using round steak, tenderize it with a meat mallet first.
Season each side of the steak with a teaspoon of the seasoned salt/BBQ rub.
Combine the flour, the remaining seasoned salt/BBQ rub, and pepper in a small bowl and mix well.
Combine the the buttermilk, beer, egg and hot sauce in another bowl and whisk to combine.
Cut the steak into half-inch wide strips that are about three or four inches long.
Dredge the steak strips in the flour mixture, then into the egg batter, then back into the flour.
Put the battered strips in a flat rimmed container pan and freeze. This really helps keep the batter intact when you fry them.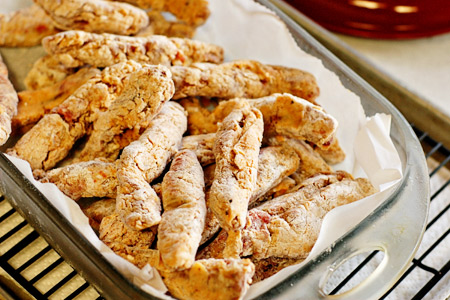 Deep fry the frozen steaks at 350º degrees until golden brown.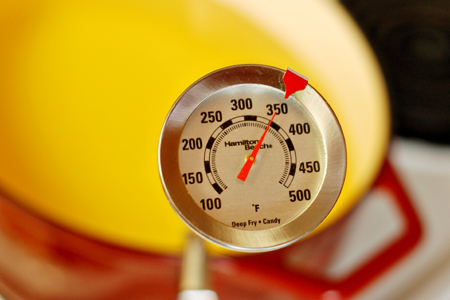 Tip:
Fry in small batches (5-7 at a time) and keep them warm in a 175º oven on a rack in a sheet pan (as seen in the picture below).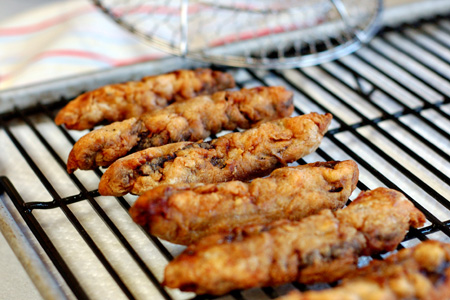 Serve with french fries (of course) and cocktail or BBQ sauce for dipping.
Enjoy!