Unknown
Permanent Link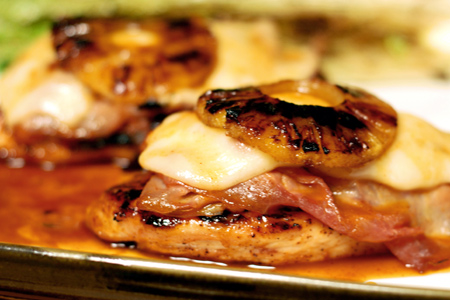 Here is a great way to add some much needed pizazz and wow factor to grilled boneless-skinless chicken breasts. As I've said before, they certainly need all the help they can get.
The breasts are marinated in a dry rub, grilled with a pineapple mustard mop sauce, then topped with sliced deli ham, Swiss cheese and a pineapple ring. It's almost like an inside-out cordon bleu that can be served plated, or as a sandwich on a hearty bun.
Ingredients
6 Boneless/skinless chicken breasts
12 slices Deli ham (thin)
6 slices Canned pineapple
6 slices Swiss cheese (I used Boar's Head® Baby Swiss)
1/2 cup Pineapple juice
4 Tbsp Unsalted butter, melted
2 Tbsp BBQ seasoning (I used
Sucklebusters Hoochie Mama
)
1 Tbsp Plain yellow mustard
1 Tbsp Honey
1 Tbsp Molasses
2 tsp Worcestershire sauce
1 tsp Chili powder
Method
Put a breast in a gallon zip-top bag and pound the thick end until the entire breast is uniform in thickness, then move to a platter or rimmed sheet pan.
Repeat with the remaining breasts.
Season both sides of each breast with the BBQ seasoning, cover and refrigerate at least an hour.
Combine the butter, pineapple juice, mustard, honey, molasses, Worcestershire sauce and chili powder a medium mixing bowl and whisk until smooth, then set aside.
Prepare your grill for
two-zone cooking (direct and indirect)
at medium-high heat (about 400º).
Quickly grill one side of each breast and each pineapple ring over direct heat until they are seared and have nice grill marks, about two minutes.
Flip each breast and ring, brush with the sauce, and cook another two minutes.
Move the chicken to the indirect part of the grill and brush the top of each with the sauce.
Top each breast with two slices of ham and drizzle the ham with the sauce.
Put a slice of cheese then a pineapple ring on each breast and drizzle yet again with the sauce.
Continue cooking with the grill lid down until the internal temperature reaches 160º, about 10 minutes.
Serve with, yes, you guessed it, a drizzle of sauce.
Enjoy!