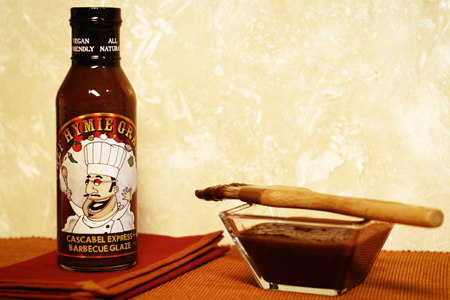 The good folks at
Chef Hymie Grande
sent me a bottle of their
Cascabel Express Barbecue Glaze
to try. Here's how it's described on their site:
"Earthy tones of ancho and smoky chipotle chilies tease your taste buds with flavor then look out for the habanero and cascabel chile explosion that wakes up your entire mouth! Only the bravest of barbecue bravado will brush this on steak, ribs and chicken."
Now, being a semi-serious chilehead (semi because I don't do the crazy rip-your-lips-off stuff), I looked forward to trying it. I love chile-laden sauces and the little red "Surprisingly Hot" label on the bottle was calling out to me.

I tasted it straight out of the bottle and it certainly lived up to its description. It starts out sweet and a little smoky, then the sweet fades as the heat ramps up and finishes with a punch. The heat lingers and builds up from there. I will say that there was a bit of an odd foretaste that I couldn't place. However, since barbecue sauces are meant to be eaten on meat, you really can't judge them fairly when sampled straight.

I decided to give the sauce a fair test on some competition practice barbecued pork butt. I glazed a nice sized piece with a couple of thin coats and let it cook on. This is where the product shined. That foretaste went away and it complimented the pork nicely. This is clearly a sauce that benefits from being cooked on the meat.

Something very unique about the Chef Hymie Grande line of sauces is that they are all made with no high fructose corn syrup or processed sugars. They are all-natural and carry the American Diabetes Association mark, meaning that they are diabetic-friendly.

The bottom line here is that this is a good choice for those who enjoy a sauce that packs serious heat. As the decription states, this is for the brave. It's also a welcome choice for those who need to watch their sugar intake.
Labels: review