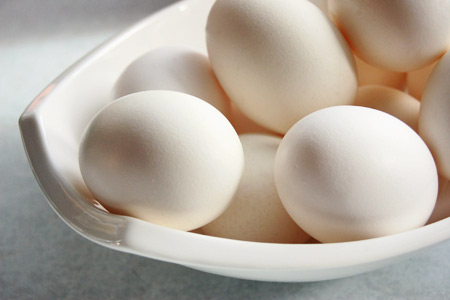 Hard-boiling eggs is certainly not all that interesting, but it is an essential skill that is simple to master. If you are sick of eggs with that nasty greenish-grayish halo around a yolk that is so hard that it's nearly eligible for use in the PGA, look no further.
I found this method in the excellent
Anthony Bourdain's Les Halles Cookbook
, and it's never done me wrong. It's so simple that you'll have it memorized after you try it a couple times.
Ingredients
Eggs
Water
Ice
Method
Put the eggs in a pot large enough so that they will fit in a single layer on the bottom.
Add enough
cold
tap water to cover the eggs by two inches.
Bring the water to a rapid boil, uncovered.
As soon as the water boils shut off the heat and cover the pan.
Let it sit, on the burner,
exactly
ten minutes.
While the eggs are sitting, prepare an ice water bath in a large bowl.
At ten minutes, dip out the eggs and move them to the ice water bath.
Let the eggs cool completely.
Peel and use!