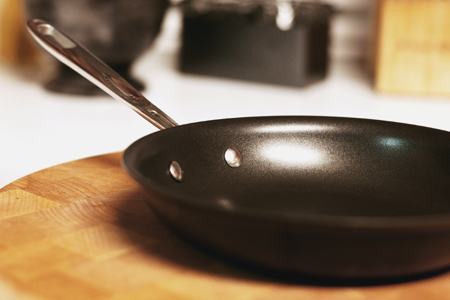 As I was shooting the pictures for this post my wife asked, "Why are you shooting pictures of a pan?" I replied, "You know, as I was washing this I was thinking about what a great pan this is." I elaborated further, but the bottom line is that I decided it was time to spread the good news.
About a year ago I bought this
8" Emerilware anodized non-stick skillet
, made by
All-Clad
. Now, I'm not a huge fan of non-stick cookware, but there are applications where it is simply required.
I bought this pan simply because I have been very disappointed with most of the non-stick garbage that is out there. I have other All-Clad cookware and utensils and they have certainly lived up to their reputation for being some of the absolute best cooking products available. They make simply incredible stuff!
Take a close look at the picture above. Note that the pan looks almost brand new. This is a testament to how well-made this cookware is. After a year of consistent use, the inside of the pan has barely any evidence of use. The non-stick coating is almost flawless.
Not only is this cookware very well-made, it cooks like nobody's business. It heats very quickly, evenly and produces great food every single time. My only regret is that it's only an 8-inch pan. I have a 12" anodized Calphalon pan and it seriously pales in comparison. I plan to remedy that situation very soon.
If you need or want some incredible non-stick cookware that will perform consistently without breaking the bank, you can't go wrong with Emerilware from All-Clad.
Labels: discovery