Unknown
Permanent Link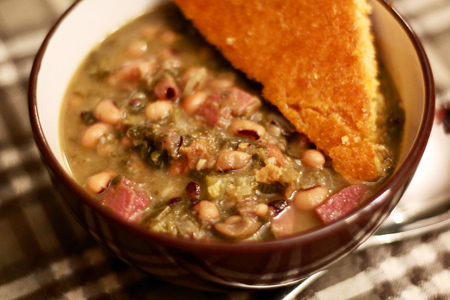 Ringing in the new year calls for blackeyed peas, greens and pork. Oh, and that means that we must include cornbread on the side. This might just be a new tradition here at Daddio's house.
I call it a stew, but it's more like a really thick soup, or I suppose you could even call it a form of chili. No matter what you call it, I call it good and the family concurred. It's one of those simple hearty comfort foods that fills the house with airborne deliciousness even before you eat it.
Ingredients
2 bunches Collard greens, washed, stemmed, and rough chopped
2 Smoked ham hocks
1 lb Cooked ham, diced to about 1/2"
7 cups Water
3 cans (15 oz) Blackeyed peas, rinsed
1 can (14 oz) Chicken broth, low sodium
2 stalks Celery, washed and sliced to 1/4"
1 med Onion, diced
1/3 cup Sweet Marsala wine
1 1/2 Tbsp Garlic salt
1 Tbsp Worcestershire sauce
1 tsp Black pepper, coarse ground
2 tsp Creole seasoning (I used
Spice Hunter "Cajun Creole Seasoning"
)
Method
Put the water, garlic salt, Creole seasoning, pepper, collard greens and ham hocks in a large heavy soup pot or Dutch oven over medium-high heat and bring just to a boil.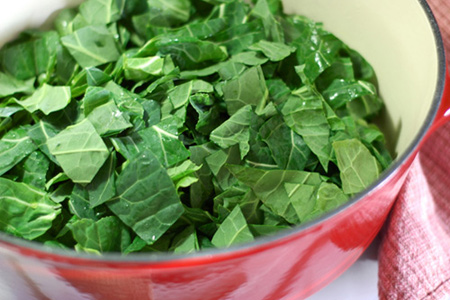 Cover, reduce the heat to medium low and cook one hour, stirring occasionally.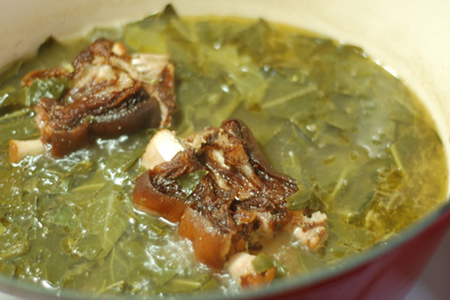 Add all of the remaining ingredients, except the blackeyed peas.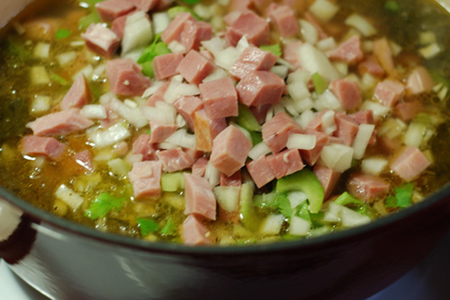 Increase the heat to medium-high and bring back to a simmer.
Reduce the heat to medium-low and simmer covered for 20 minutes.
Uncover, increase the heat to medium, and add the blackeyed peas.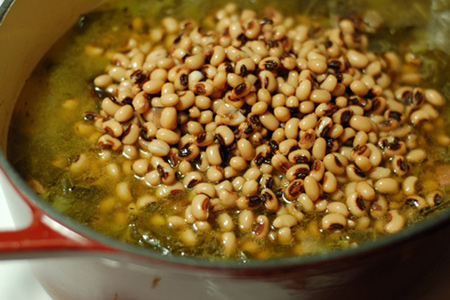 Simmer uncovered for about 20 minutes to allow the broth to reduce and thicken.
Turn off the heat and let stand 10 minutes.
Serve with cornbread and enjoy!
Afterthought:
If I had to do over again, I would have first sauteed the onion and celery in a little olive oil or butter before adding the greens, water, hocks and seasoning at the start of the cook. I think it would add more depth of flavor.