Unknown
Permanent Link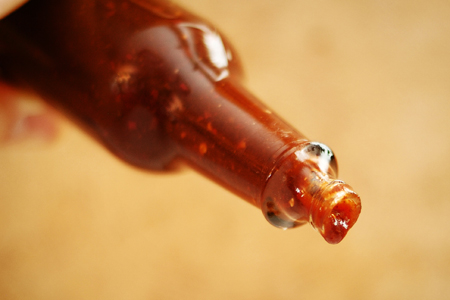 I am a serious hot sauce fanatic. I put it on
almost
everything, so much so that my girls think I've burned off all my "tastebugs". At any given time I'd guess that I have ten kinds in the house. Some, like Tiger Sauce, are for more specific purposes while the others are various types and flavors to accessorize certain types of food. If I had to pick one to use for the rest of my life it would probably be
Melinda's XXX Chipotle
. It's great stuff!
It occurred to me last night that it's strange that I haven't ever made my own sauce. That situation has now been rectified and I have a recipe to share. It was purely an experiment that I made up as I went along.
My favorite sauces are those that add flavor and heat without overpowering the food with a vinegar taste. This recipe definitely falls in that camp. It's thick, subtly smoky, and earthy, with a little bit of sweet and just enough heat. I think it will prove to be great on meats.
Let's get on with it.

Ingredients
1/2 cup Dried de Arbol chiles, ground with a mortar and pestle
1/2 cup Dried Pasilla (negro) chiles, ground with a mortar and pestle
12 oz Red wine vinegar (I used Star brand)
2 cups Water
3 Tbsp Garlic salt
1/2 cup Dark brown sugar
1/4 tsp Ground tarragon
1/4 tsp Ground ginger
1/4 tsp Cinnamon

Method
Combine the chiles, vinegar and garlic salt in a medium non-reactive mixing bowl.

Boil the water and add it to the bowl.

Cover the bowl and let it sit 12 hours at room temperature to reconstitute the chiles.

With a spoon, skim off and discard as many of the floating seeds as possible.

Put one cup of the chile mixture in a small non-reactive sauce pan and bring just to a boil.

Remove from the heat and add the sugar, tarragon, ginger and cinnamon.

Stir unil the sugar is completely dissolved.

Pour all of the chile mixture into a blender and puree two minutes.

That's it! Put the sauce in clean sanitized hot sauce bottles or jar(s).

The recipe made enough to fill six standard five-ounce bottles. I don't know how long it will keep, but it should be at least a couple of months. Of course, in my house it won't be around that long.