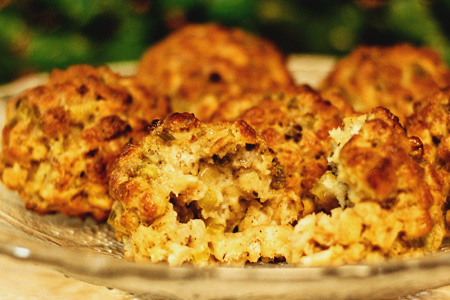 This post could get me in some trouble. You see, this is a serious traditional side in our family and I don't know how they'll feel about me putting it out "in the wild", as it were.
It might be surprising to some that, although I've been making these since I left home 24 years ago, I've never had a recipe. It's one of those things that I've always made by look and feel. Well, you can't share something you can't document and repeat, so tonight I actually cooked these scientifically and documented it.
The idea of stuffing balls might seem odd, but it really makes a lot of sense. First, let me say that I am not a fan of stuffing my turkey. It slows down the cooking and the meat is overcooked by the time the stuffing is at a safe temperature, but I digress. However, I am a great fan of stuffing, which leaves me with the prospect of making dressing (stuffing that isn't stuffed). This leads us to the perfect combination of crunchy and soft and moist stuffing (dressing) that is stuffing balls.
Enough of the explanation, let's get on the business end of some cooking.
Ingredients
1 bag (14 oz) Cubed herb stuffing (I prefer Pepperidge Farm)
2 cups Chicken broth
2 stalks Celery, diced to about 1/4" (approximately 1 cup)
1/2 medium Onion, diced to about 1/4" (approximately 1/2 cup)
1 can (10 3/4 oz) Condensed cream of mushroom soup (Campbell's of course)
3 Tbsp Unsalted butter, melted
2 Tbsp Olive oil
1 tsp Garlic salt
1/2 tsp Ground poultry seasoning
1/4 tsp Ground white pepper
Method
Heat the olive oil in a medium saute pan over medium-high heat.
Add the celery and saute five minutes.
Add the onion and saute five minutes more.
Put the soup, broth, garlic salt, poultry seasoning and pepper in a large mixing bowl.
Add the sauteed celery and onion to the bowl and mix well.
Preheat your oven to 375º.
Add the stuffing cubes to the bowl and mix very well.
Let the stuffing sit in the bowl 20 minutes, stirring occasionally.
Using your hands, gently form the stuffing into 2 1/2" balls (about eight) and place them on a large non-stick or lightly greased sheet pan. Make sure there is at least an inch between each ball.
Note:
Compress the balls just enough to hold their shape.
Bake on the middle rack one hour or until the balls are nicely browned.
Remove the pan from the oven and lightly brush each ball with the melted butter.
Serve and enjoy! (Makes 8 servings)
BG7PV5WP9AB7