Unknown
Permanent Link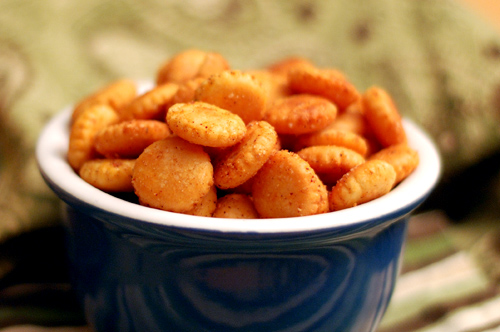 Here is a quick and easy snack that has that familiar sweet, salty, smoky, and subtly spicy flavor of BBQ potato chips. The seasoning could easily be used on all manner of things other than the lowly oyster cracker. Oven-baked french fries or tater tots spring immediately to mind, but be creative and add it to anything you think might benefit from a little BBQ punch.
Ingredients
15 oz Oyster crackers
1/2 cup Canola oil
Seasoning
1 1/2 Tbsp Golden brown sugar, clumps removed
1 Tbsp
Knorr Tomato Bouillon
(Hispanic section of many grocery stores)
2 tsp Powdered sugar
1 1/2 tsp Chili powder
1 tsp
Original Bacon Salt
1/2 tsp Garlic salt
1/4 tsp Ground cayenne pepper
Method
Preheat your oven to 250º.
Add the oil and all of the seasoning ingredients to a large mixing bowl and whisk to combine.
Add the crackers to the bowl and gently toss to coat all the crackers completly.
Spread the crackers evenly on a large sheet pan.
Bake on the center rack for 25 minutes.
Remove from the oven, let cool and store in a large zip-top bag.