Unknown
Permanent Link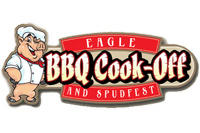 Well folks, I'm about to come to the end of my
fourth competition BBQ season
. I'll be competing at the
Eagle BBQ Cook-Off & Spudfest
this coming Sunday and Monday (September 6 & 7) at
Guerber Park in Eagle, Idaho
(just barely northwest of Boise).
This is a great event at a really nice venue. I'm told it'll be even better than last year, which means it will have plenty of outstanding food and family fun. If you are in the area, please stop by and say hello. I always enjoy talking barbecue with folks.
The two main charitable beneficiaries are
The Idaho Foodbank
, and
The Wildland Firefighter Foundation
, which are both great causes.
Update:
Here
are my results.
Labels: competition