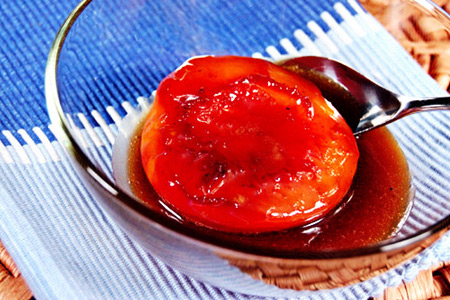 Here is a simple but elegant summer dessert that I made up as I went along last night. I'm not typically a dessert-making kind of guy, but I spied a flat of nectarines on the counter and a cast iron skillet on the stove, and the gears started turning.
I initially served these on top of vanilla ice cream, but my wife said the flavors sort of clashed. However, the girlies devoured theirs, so go figure. I tried one plain and it was pretty darned good. A little of the caramel goes a long way, so you don't need as much as is shown in the picture.

Note: This recipe would also work well with peaches, but you'll have to decrease the cooking time.

Ingredients
2 Nectarines, halved and pits removed
1/2 cup Water
1/2 cup Champagne
1/4 cup Honey
3 Tbsp Butter, unsalted
1/8 tsp Allspice
2 tsp Sugar
Salt
Pepper

Method
Arrange the nectarines on a plate cut-side-up.

Sprinkle the cut-side of each nectarine half lightly with 1/2 tsp sugar

Season lightly with salt and very little pepper, and let sit 15-30 minutes.

Heat a cast iron skillet over medium heat.

When the skillet is hot, add the nectarines cut-side-down.

Cook until the flesh just starts to caramelize to a medium brown.

Add half of the water and 1 Tbsp of the butter.

When the butter is melted, roll the pan a little to distribute the liquid. Lift each nectarine to allow some of the liquid to get under them.

Cover the pan lightly with a lid (or a piece of aluminum foil), reduce the heat to medium-low and cook 15 minutes.

Uncover and add the remaining water and butter, champagne, honey, and allspice.

Roll the pan a little to combine and distribute the liquid. Lift each nectarine to allow some of the liquid to get under them.

Increase the heat to medium and cook until the liquid reduces to a melted caramel consistency.

Remove from the heat and let cool about five minute.

Serve and enjoy.