Unknown
Permanent Link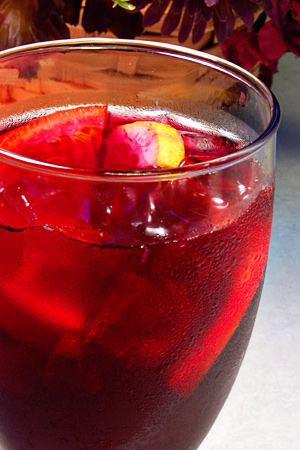 It's clearly a little early, but for some reason I had the burning desire to make some sangria. I like wine and sangria is just a great way to lighten up some red wine. It's a winey, fruity, refreshing and festive drink. Oh, and it's brain-dead easy to make.
You can use any red wine for this recipe, but I recommend something full-bodied, like a Merlot. You want the wine to be bold enough to stand up to the fruit and ice. As for brands, I really like
Barefoot
. The quality is worth about three times the price.
Ingredients
1 bottle (750 ml) Red wine (I recommend
Barefoot Merlot
)
1 Tangelo, sliced 1/4" thick
1 Lemon, sliced 1/4" thick
12 oz Ginger ale
1/4 cup Sugar
Method
Combine the wine and sugar in a large pitcher.
Stir until the sugar is dissolved.
Add the fruit and stir gently.
Just before serving, add the ginger ale and stir.
Serve over ice in a large wine glass.
Enjoy!
Tip:
Roll the fruit on your counter under the palm of your hand before slicing. This will help release the juice and oils.