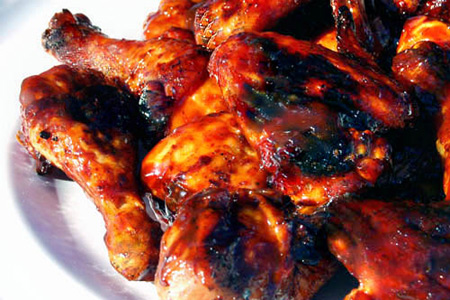 If you've ever had General Tso's Chicken at your favorite Chinese restaurant, you will completely understand this twist on grilled chicken. If you've never tried General's Chicken (as it's commonly referred to), and you like sweet, sticky and spicy Asian sauces, give this a try.
The idea for the dry seasoning came from a co-worker who uses it on her roasted chicken. She brought me a packet of the seasoning and this is what I came up with. Thanks, Beverly!
As always, click the image to see the larger version.
Ingredients
1 whole chicken, cut up
1 packet
Sunbird Phad Thai seasoning
(Asian section of your supermarket)
2 Tbsp
Lawry's Seasoned Salt
Sauce
1/2 cup Hoisin sauce (I prefer
Lee Kum Kee
brand)
1/4 cup Ketchup (Heinz, of course)
1/8 cup
Mae Ploy sweet chili sauce
(Asian section of your supermarket)
1/8 cup Rice wine vinegar
1 Tbsp Lemon juice
2 tsp Hot chile oil (or more to taste -- I prefer
Mongolian Fire Oil
)
Method
Rinse all of the chicken pieces well under running cold water and pat dry with paper towels.
Coat all sides of each piece of chicken liberally with the Phad Thai seasoning and a sprinkle of the seasoned salt.
Put all the chicken in a gallon zip-top bag and refrigerate for at least two hours.
Combine all the sauce ingredients in a medium mixing bowl, whisk well to combine, and set aside.
Start your fire and
prepare for indirect cooking
at medium-high heat.
Grill the chicken indirect until the thighs reach an internal temperature of 155º.
Note:
Keep the largest pieces of dark meat closest to the heat, and the white meat furthest away.
Brush a medium-thick coat of the sauce on each piece of chicken.
Continue cooking until the thickest part of the largest dark meat reaches 165º. Rotate the pieces close to the direct part of the fire until the sauce caramelizes nicely, then rotate them back to the cooler part of the grill.
Brush each piece of chicken with another medium-thick coat of the sauce, and remove to a platter.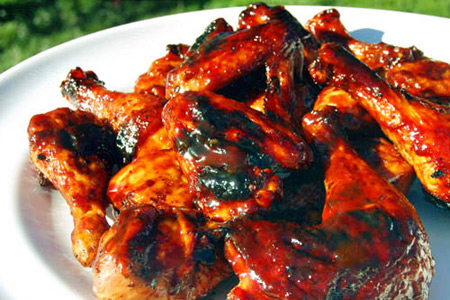 Let the chicken rest 10 minutes.
Serve and enjoy.